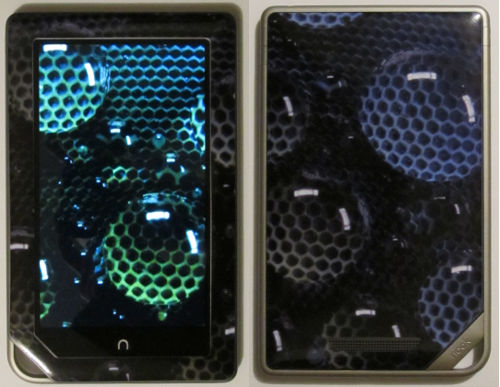 I was doing some cleaning the other day and came across a skin for the Nook Tablet that I had received from GelaSkins
some time ago but never got around to putting it on.
So I decided is was a good time to skin my Nook Tablet and put together this review. I also added a section at the end for a gallery of some of the most popular Nook Tablet skins from GelaSkins and DecalGirl.
I already wrote a review of the GelaSkins Steampunk Skin I got for the Kindle Fire back in December. The skin is still on and is in good condition; none of the corners are starting to peal up or anything.
Putting the skin on the Nook Tablet was pretty easy. Choosing a design is the hardest part—there are hundreds, and you can even upload your own. The design I chose is called Dew On A Dragonfly's Eye
. They have the same design for other devices too.
GelaSkins are essentially large stickers; you can align and adjust and peel it back off as you're putting it on, and they don't leave sticky residue behind. I've found it's easier to start with the back piece because it's just one large section that's hard to screw up.
What I do is peel the skin partway off the backing paper instead of trying to manage the entire piece at once. Then I peel the rest off once the top edge and sides are aligned properly.
The front is a little trickier because the pieces are so narrow. I started at the top and carefully worked my way down both sides, aligning the skin with the inner part of the bezel. I've found that you have to be very careful when peeling up the top piece to re-adjust because the material can stretch easily with the smaller sections.
All in all, the GelaSkin went on smoothly and it looks good. I like how the color of this particular piece is dark and not distracting. GelaSkins also offer the matching wallpapers for download so that adds a cool effect.
My one complaint with this particular skin for the Nook Tablet is that the front piece could have been a little larger. There's nearly an eighth-inch of bezel showing on the outer edge. The one for the Kindle Fire fits close to both the inside and outside edges.
Disclaimer
I am enrolled in the GelaSkins affiliate program to help generate revenue for this website (that means I get paid a small commission when you buy something from them). That doesn't affect this review in any way, but it does give me easy access to embed some samples of their more popular designs below. I'm also in the DecalGirl affiliate program so I included a collection of their popular skins as well.
Nook Tablet Skins from GelaSkins
More Nook Tablet Skins at GelaSkins »
Nook Tablet Skins from DecalGirl
More Nook Tablet Skins at DecalGirl »