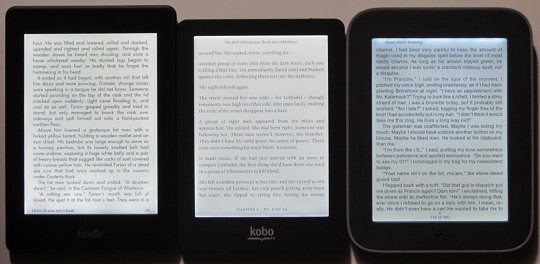 As I mentioned last week, I was finally able to order a Kobo Glo from Powell's Books to review. By the way, Powell's did a great job of getting it out quickly. I ordered it on November 7th and received a shipping notice the next day, and even with the free shipping option it arrived yesterday the 13th (glad I didn't pay for express shipping).
Ever since Kobo first announced the Kobo Glo, I've been eager to see how well the frontlight works and how it compares to the GlowLight Nook and Kindle Paperwhite. So the first thing I did after opening the box and turning the device on was switch on the frontlight to see how it looks.
One word came to mind: impressive.
The Kobo Glo's lighting is surprisingly uniform across the entire screen, more so than the Kindle Paperwhite and way more than the Nook Glow. There's a subtle shadow line at the bottom of the screen where the LED lights are located, but it's smaller, less noticeable, and doesn't intrude on the text like the Kindle and Nook.
In short, the Kobo Glo has the best frontlight of any ebook reader I've seen so far. It's certainly better than the GlowLight Nook and is a little better than my Kindle Paperwhite. Notice I say my Kindle Paperwhite, as they don't all seem to be created equal.
As mentioned earlier, my Kindle Paperwhite has some mildly distracting discolorations on the screen that are visible in certain lighting conditions. Some people claim they don't have any of that at all, so it's up for debate. I'm tempted to get a replacement Paperwhite just to see how it compares, but they are majorly back-ordered right now.
The Kobo Glo on the other hand doesn't have any of the discolored blobs. The screen gets slightly whiter and brighter toward the top than at the bottom, but the transition is so gradual that it's hardly noticeable and it doesn't distract the eye when reading.
All in all, I'm impressed with the Kobo Glo's frontlight so far. I still need some more time with it before doing a full review and some proper comparison reviews between it and the Kindle and Nook. But seeing as how I just posted the Kobo Mini review I'm already very familiar with the Glo since the software is basically identical. So stay tuned for some reviews of the Kobo Glo over the next couple weeks (I've got to finish the Nook HD+ review first, though).