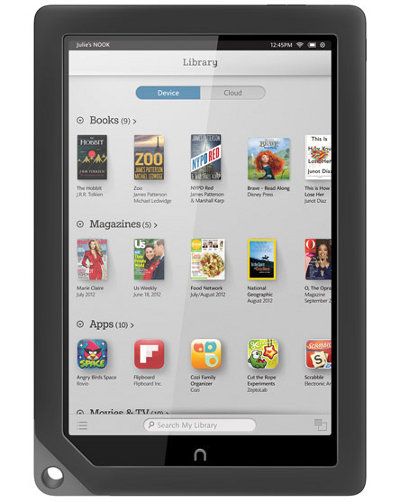 I was trying to finish up the Nook HD+ review today but it's just not going to happen, and it's already getting too long to include a list of recommended apps, so I decided to go ahead and put together this separate post of must-have apps for the new Nook HD tablets.
B&N's appstore is pretty slim on selection, and unfortunately not all of their apps work on the HD tablets, so finding good apps can be a bit of a challenge. Here are 10 free apps I found to be useful while reviewing the Nook HD+.
Open Explorer – This is the only file manager app I could find for the Nook HD+ and it seems to do the job pretty well, especially for moving and sorting files when using a microSD card.
OverDrive – With this app you can search for and download ebooks from public libraries for free, audiobooks too. This app will also read sideloaded ePub ebooks.
Evernote – This is a fairly basic app for note-taking that includes some advanced options for syncing notes and sharing them, including voice and audio notes.
Pulse News – This is the only free news and RSS reader app I could find in the Nook store. It's a nice app for reading RSS feeds from around the web, and you can import Google Reader feeds.
Dropbox – Dropbox is a cloud storage utility that makes transferring files to and from the Nook HD easy. Works with photos, movies, documents, ebooks, PDFs, and more. Comes with 2GB of free storage space for signing up.
ForeverMap 2 – One of the biggest cons with getting a tablet not certified by Google is the lack of Google apps. The only map app available on the Nook platform is ForeverMap 2. The free version works online only, whereas the paid version works offline. This is a very basic map app for getting directions from point to point. No street view. No satellite view. Nothing fancy.
Twitter – There's this thing called "Twitter" that seems to be quite popular :).
Astrid Tasks/To-do List – A simple app for creating to-do lists on your Nook.
250,000+ Recipes and Grocery List: BigOven – This is a handy app for finding new recipes.
Dolphin Browser – Personally I find the default browser better, but we all have our preferences. Dolphin is a solid alternate web browser for those that don't like the default browser.