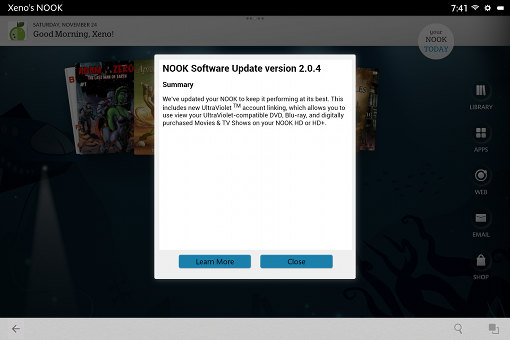 Barnes and Noble has started rolling out firmware updates for the Nook Simple Touch, GlowLight Nook Touch, and Nook HD and HD+ tablets.
According to B&N, the software update is minor. In fact it's so minor all they give as a description for the Nook Touch is, "The NOOK Simple Touch Ver1.2.0 update provides minor system enhancements."
Some early testers at MobileRead who have installed the update say that the missing shelves problem has been fixed, and so has the bug that makes it so some books get stuck as showing page 1 of 1.
The update will download automatically to the Nook Touch over Wi-Fi or you can manually install it by following the directions on the Nook software update page at Barnes and Noble.
Apparently there's an 1.2 update for the GLowLight Nook Touch as well, but B&N still doesn't have software update pages for any of their newer devices.
Regardless, the updates may cause problems with rooted Nook Touches and Nook Glows so proceed with caution.
As for the Nook HD and Nook HD+, to download the new update go to Settings > Device Information > Software version > Check for Updates.
The new software is version 2.0.4, and the changes appear to be minor. The only thing B&N says about the update is it includes UltraViolet account linking.
One other thing I noticed, and I'm not sure the update had anything to do with it, but Pandora Radio is now available on the HD and HD+. Nice.