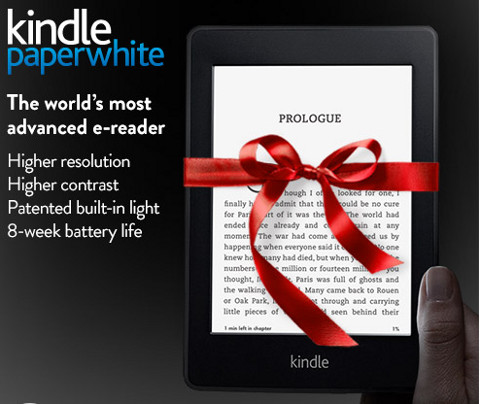 This is some weird timing. Two days ago I posted about how I thought it was odd that Amazon has had the Kindle Paperwhite listed as shipping on December 21st for several weeks, even after the busy Black Friday and Cyber Monday shopping weekend, and especially when you can go to a Best Buy or Staples store and pick one up right now.
But today the shipping date has finally changed. It now shows the Kindle Paperwhite as shipping in 3 to 5 weeks for three of the four models. The $199 3G Kindle Paperwhite without Special Offers is now the only one with a shipping date of December 21st, and for that price you might as well get the 7″ Kindle Fire HD.
This is of course bad news for anyone who wants to give a Kindle Paperwhite as a Christmas gift since it is unlikely to arrive by December 25th.
If you really want to get one by Christmas, I would advise checking with your local Best Buy and Staples stores to see if they have any in stock, or any of the other retail stores that sell Kindles.
Amazon still has other Kindle models in stock online, but they are starting to have supply issues so if you plan on getting one for Christmas you'd better do it soon. The $159 Kindle Fire is expected to ship in 7-10 days (the $129 Cyber Monday deal must have done well), and the 8.9″ Kindle Fire HD models are low on stock too and are expected to ship this week and next.
All models of the 7″ Kindle Fire HD are currently in stock, and so are the basic $69 Kindles and the Kindle Keyboard. But if you were hoping for a Paperwhite Christmas, you'd better act now or it might be too late.