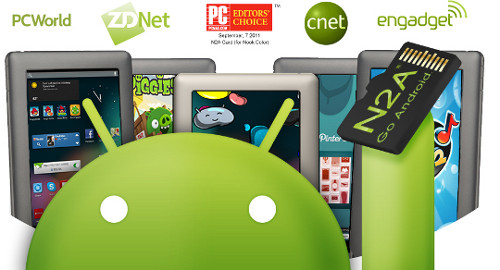 The Nook HD+ is one of the best large-screen tablets on the market thanks to its 1920 x 1280 high resolution screen and relatively low price, and it just got a whole lot better with the release of N2A cards to give it Android 4.1 Jelly Bean.
I've reviewed N2A cards in the past for the Nook Color and Nook Tablet. If you haven't heard of them before, N2A cards are microSD cards that you put into the Nook's microSD card slot to run alternate and complete versions of Android.
This way you have the option to either boot the Nook's regular internal operating system that B&N provides, or an entirely different one (in this case Android 4.1 Jelly Bean) from a memory card.
The beauty of using an N2A card or other ROM is that all you have to do is shut down the Nook and then remove the card to boot the regular operating system. It doesn't alter the Nook in any way and requires no hacks whatsoever, leaving your Nook's warranty valid.
N2A cards are relatively inexpensive. Instant downloads cost $19.99 and preloaded Sandisk cards start at $29.99. The email I received contains a 15% off code F6Qvk2DD that expires on 1/1/13. Not sure on the particulars. Update: If that code doesn't work this one will: theebookreader
Like always there are directions to create your own card for free at XDA if you are familiar with the process. Right now it's a little more complicated than usual (that's why I haven't tried it), but easier methods should evolve in time.
My Nook HD+ has been sitting neglected on the shelf for the past couple of weeks because B&N's software is just too restrictive for my taste, but now it's going to get a second chance with an Android 4.1 N2A card (review forthcoming).