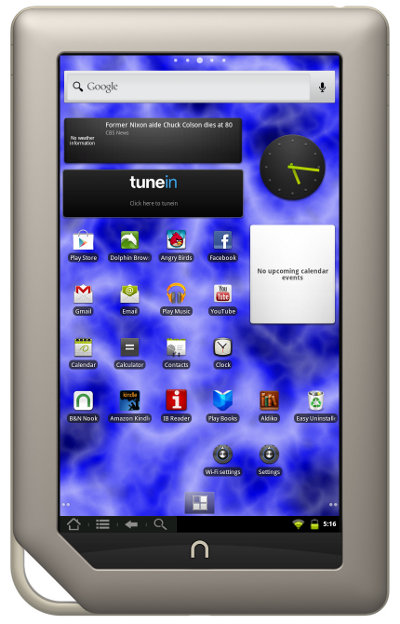 N2A Cards for the Nook Tablet are the easiest way to turn the Nook into a full-fledged Android tablet. No hacking, no rooting, no technical work is required—that's the whole point.
All you have to do is power off your Nook Tablet and then insert the N2A card into the memory card slot on the back. Turn it on and the N2A card automatically bypasses the Nook's stock operating system and boots a completely different operating system that runs entirely off of the N2A memory card.
For this review I was given the Nook Tablet N2A card that is based off of CyanogenMod 7 for a custom version of Android 2.3 Gingerbread. It is pretty much the same setup as the N2A card for the Nook Color that I reviewed last August.
N2A cards based off of CM9 for Android 4.0 may come along later this year, provided development continues to advance. I've written about how to install CM9 on the Nook Tablet's internal memory in the past, but it's not as stable as CM7 yet. Video doesn't work. Neither does the microphone, or hardware acceleration. And there are plenty of bugs.
The N2A cards are basically the same as homemade CM7 cards but come with everything already setup and ready to go, including having the memory card partitioned and having a bunch of apps pre-installed, including the Google Play store for the widest selection of Android apps on the planet.
That is one of the main advantages to using an N2A card: having access to a lot more apps. Barnes and Noble's Nook appstore has about 4,000 apps and the Google Play appstore has over 400,000. You can install whatever apps you want instead of just what B&N allows. This makes the Nook just as versatile as any other Android tablet with similar hardware and specs, and it means you can use competitor's reading apps too, like the Kindle and Kobo apps.
Another thing with apps is that B&N's apps are locked into the Nook platform so if you ever buy a different brand tablet you can't use your purchased Nook apps on it. When you buy apps from Google and other appstores you can use them on a multitude of devices, including future devices.
The coolest part of using an N2A card is that you don't lose the Nook's regular functionality in the slightest. You can always remove the N2A card or select to reboot into the regular Nook Tablet's operating system. Another option is to use the Nook for Android app to read your Nook books. It doesn't have quite as many features as the stock OS but is still a nice app.
Another main advantage with N2A cards over the stock operating system is that CM7 is highly customizable. You have a lot more freedom over everything. There are live wallpapers, widgets, folders, and different homescreen launchers and themes and styles to apply. The options are endless.
When it comes to the disadvantages of using an N2A card, there really aren't any I can think of. It doesn't change the Nook's software or hardware in any way so it doesn't void the warranty. The one thing is that maybe battery life isn't quite as good when running CM7 instead of the Nook's stock OS. Battery life is always hard to gauge because there are so many variables but it does seem to be a little less with CM7. From my tests it's more in the 8 hour range with CM7 than 10 hours with stock.
Who Should Buy an N2A Card?
N2A cards are the easiest way to unlock the Nook Tablet's true Android functionality, and since they are designed for non-tech people and come with access to the N2A forums and help center anyone can use them. N2A cards come in three different sizes, and they all sell from Amazon.com. The cheapest is an 8GB card that sells for $34.99, the 16GB cards is $49.99, and the 32GB card is $79.99.
But buying an N2A card doesn't make sense for everyone. If you are the technically inclined sort that isn't afraid of some research and trial and error, you can make your own CM7 card if you have a microSD card on hand and a microSD card reader to plug it into your computer. You'll need software to write the CM7 image onto the memory card and some partitioning software to setup the memory card properly.
Another option, if you don't care about retaining your Nook Tablet's warranty and stock operating system, you can root your Nook Tablet and then install CM7 on the internal memory.
The latter two options aren't extremely complicated by any means, but do require more technical work than simply sticking an N2A card in the back and powering the Nook Tablet on.
Nook Tablet N2A Cards Video Review