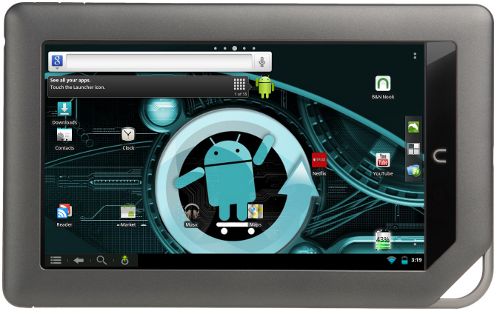 Good news for Nook Tablet owners. You can now run CyanogenMod 7 for a custom, open version of Android 2.3 Gingerbread off a memory card on both an 8GB and 16GB Nook Tablet
right out of the box, no rooting or hacking required.
CM7 improves the Nook Tablet's functionality quite a lot. It offers more customization and even comes with full access to Google's Android appstore. And since it runs entirely off the memory card, it doesn't modify the Nook in any way so it doesn't void the warranty. You just take out the memory card to run the Nook Tablet's regular operating system like normal. It's like having two tablets in one.
All that is required to make a CM7 ROM for the Nook Tablet is a 4GB or larger microSD card, the free CM7 download that the developers at XDA have graciously put together, free disk-imaging software, and a computer to create the CM7 sd card.
If you want to take a look at CyanogenMod 7 before trying it, I posted a review and video of CM7 running on the Nook Tablet's internal memory a couple of weeks ago. This final build is even better, with more features and bug fixes, including full hardware decoding and graphic acceleration.
Earlier in the week I gave you a first look at CM9 for Android 4.0 on the Nook Tablet. That build isn't quite as far along as CM7 so there isn't a memory card option for it yet. Stay tuned for a CM9 sd card ROM in the near future.
Creating a CM7 memory card for the Nook Tablet is a piece of cake. Here's how to do it:
How to Make a CM7 Card for the Nook Tablet
Note: You can increase the amount of space available for storage according to the size of your memory card by watching this video in the comments section below. Also, read a couple comments below that for an alternate method.
1. First, you are going to need a 4GB or larger microSD card. I've always had good luck with SanDisk cards for ROMs, but any brand should work.
2. Download the latest sd card version of CM7 and extract it onto your computer. Inside you'll find the Team-B-CM7SD-Alpha_final.img file.
3. Write (not copy) the CM7 image file onto the microSD card. You'll need a microSD card reader if your computer isn't equipped with one and software that can write an image to a disk. With Windows, you can use WinImage. It has a free trial (which never seems to expire for some reason). Apparently Mac and Linux user can use dd command for this.
With WinImage, right-click and open it as administrator. Select Disk, then "restore virtual hard disk image on physical drive". Select your microSD card from the list and hit OK. Select the image file (Team-B-CM7SD-Alpha_final.img) that you downloaded and extracted on your computer (I had to select "all files" in the drop-down to get it to show up). Hit "Yes" and then it will proceed to write the image to the memory card.
4. Power off your Nook Tablet and then put your new CM7-equipped microSD card in your Nook. Power it on and it will run CyanogenMod 7 off the memory card. You'll then need to setup Wi-Fi before you can sign in with a Google account to access the Android Market, which will update to the Play Store right after you sign in.