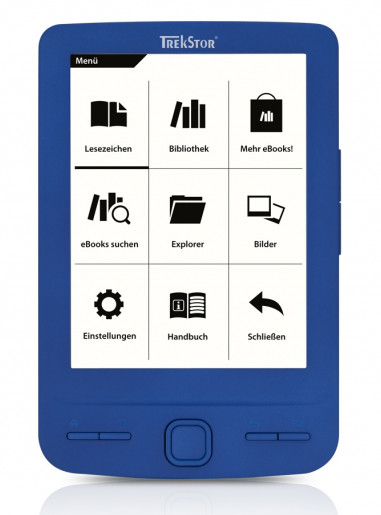 Update: I was able to get my hands on the Pyrus Mini and post a hands-on review, which includes a video review and some comparison pictures with the Kobo Mini and basic Kindle to get an idea of the size difference.
If you've ever wanted a miniature ebook reader, the Trekstor Pyrus Mini is as small as it gets. It weighs in at a measly 111 grams (3.9 ounces) and measures a slim 128mm x 85mm x 9mm.
One of the more intriguing details about this tiny ereader is the 4.3″ screen. Unlike the vast majority of ebook readers this little guy does not use a screen from the company E Ink; it uses a "Digital Ink" display, which is being produced by Guangzhou OED Technologies out of China. In fact E Ink is suing Trekstor for patent infringement because of this so the Pyrus Mini might not be long for this world.
For the time being, the Pyrus Mini is available in parts of Europe for 49 euros. From Amazon UK it costs as little as £39. In fact I was able to order a blue one from here in the U.S. from Amazon UK for a grand total of £46.13, which equates to about $75.
It is scheduled to arrive on February 22nd so check back in a few weeks for a review. In the meantime, here's a review of the Pyrus Mini in Italian, complete with a video review below (it has English subtitles if you hit the captions button).
As far as specs go, the Pyrus Mini has 2GB of internal storage space and a microSD card slot for expansion up to an additional 32GB. The screen resolution is 800 x 600, which equates to an impressive 232 dpi. That's 20 dpi better than the so called "HD" screens on the Kindle Paperwhite and Kobo Glo.
For formats the Pyrus Mini supports Adobe DRM for ePub and PDF ebooks, as well as TXT, FB2, RTF, and PDB formats. It supports typical image formats too. The device is available in three colors: black, blue, and pink. Language support includes English, German, French, Dutch, Italian, Spanish, Polish, Portuguese, Swedish, and Ukrainian.
TrekStore Pyrus Mini Review (Italian)