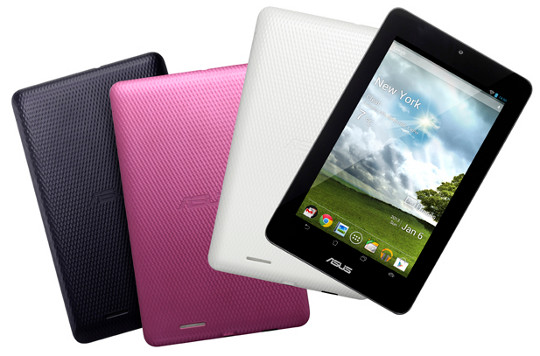 Asus has unveiled the Asus Memo Pad, a 7-inch budget-friendly Android tablet that runs Android 4.1 Jelly Bean.
The specs are a little disappointing, but the $149 price tag is certainly appealing. Many thought this tablet would be a competitor to the Google Nexus 7 (which Asus also makes) and Kindle Fire HD, but it turns out it's more in line with last year's Kindle Fire that now sells for $159.
The Asus MeMo Pad has 7-inch LCD display with 10-point capacitive touch and a resolution of 1024 x 600. It doesn't have the high-res screen like the Nexus 7 and Kindle Fire HD, but unlike those two tablets it does include a microSD card slot, and works with cards up to 32GB. Base storage space is either 8GB or 16GB (Asus says it may vary by country).
Other specs include 1G of RAM, a 1 megapixel front-facing camera, headphone/mic jack, micro USB port, speaker, 2.4GHz Wi-Fi, and 7 hour battery life. The MeMO Pad runs Android 4.1 Jelly Bean and is powered by a 1Ghz VIA MW8950 CPU and a Mali-400 GPU.
The Asus MeMo Pad weighs in at 358 grams and measures 196.2 x 119.2 x 11.2 mm. It comes in three different colors: Sugar White, Titanium Gray, and Cherry Pink.
The MeMo Pad also comes bundled with Asus' collection of Android applications, which are quite nice as I've used many of them with the Asus Transformer tablets. There's a pretty good ePub ereading app, a handy SuperNote app, Asus sync and web storage, there's an app locker, app backup, and others.
Asus hasn't given an exact date of release yet, but the Asus MeMo Pad is expected to start hitting retailer's shelves soon. It's a pity it doesn't have a higher resolution screen, but it's still a good price for a budget tablet compared to what else is out there. It would have done a lot better if they'd released it a year ago.
ASUS MeMO Pad Promo