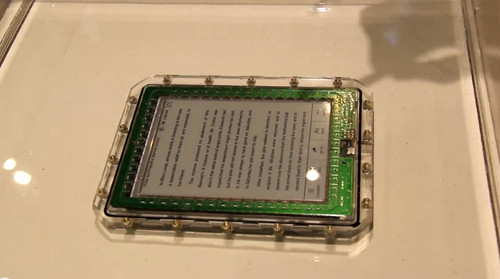 Now here's an interesting concept that will catch the eye of anyone who likes to read in the bathtub, hot tub, or other watery location that is normally a hazard to any book or ereading gadget.
I just came across a video on YouTube that shows a functioning ebook reader that is completely submerged under water. Judging by the software the device is running, it appears to be a modified GlowLight Nook Touch.
The video was uploaded to Neonode's channel, the same company that makes the infrared touchscreens for a number of ebook readers on the market, including the Sony Readers, Kobo ereaders, and of course the Nook Touch. Neonode was also used on the Kindle Touch, but then Amazon switched to using capacitive screens with the Kindle Paperwhite.
There's not a lot of details about this waterproof Nook prototype, but it's an intriguing proof of concept. Here's what the description at YouTube says about the video:
Powered by Neonode's infrared technology – this e-reader doesn't mind being submerged under water. The demonstration is done with a paintbrush to show the technology's performance and fast response time. The device has been in the water tank for four days, and we didn't re-charge it once.
Before Neonode's infrared touch technology came along, touchscreens and E Ink ebook readers did not mix well at all. Neonode has been a key player in the evolution of ebook readers, and they continue to bring more innovation with ideas like this. It will be interesting to see if a waterproof ebook reader like this ever comes onto the market—but I wouldn't advise throwing away your ereader-sized Ziploc bags just yet.
Waterproof Multisensing(TM) enabled e-reader device