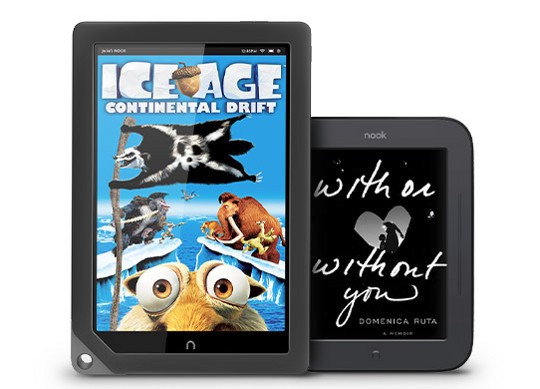 Barnes and Noble's marketing department is trying extra hard to get everyone's attention this past week. In such cases I usually ignore them because I find it excruciatingly annoying when every tech website keeps posting the exact same stories regurgitating whatever a company's marketing department tells them to like mindless parrots.
But things like this can only be avoided for so long, so I guess it's time for an obligatory Nook news article. At least I can rebel by cramming everything into one post instead of having to write five separate ones :).
First up is the free Nook Touch deal. Barnes and Noble is running a new promotion where you can get a free Nook Simple Touch with the purchase of a Nook HD+. That's a $79 value. The offer ends March 31st. You've got to give B&N credit for trying, but I just don't see how giving away Nooks is going to help their bottom line, and I don't see people running out to buy a locked down tablet just to get a $79 E Ink ereader.
Next up, B&N updated their iOS (iPad/iPhone) Nook app earlier in the week to add several new features. Most notably they added support for Nook Comics with ZoomView and panel-by-panel view. They also added animated page turns for ebooks, enlarged book illustrations, improved organization for periodicals, and support for HD magazines on the iPad 3 and 4. Lastly they improved download and sync capabilities, and added PDF Reader enhancements.
B&N also announced earlier this week that customers will soon be able to make in-app purchases. This looks to be an attempt to draw in more app developers to publish their apps in the struggling Nook appstore. A better idea would be to allow customers to sideload Android apps from other sources like just about every other Android tablet on the market.
Today B&N announced that you can get five exclusive free Nook ebooks and five magazines by downloading the Nook for Windows 8 app, which is available on any Windows 8 device. You can choose the free content from a "Welcome Offer" list. One of the free titles is Life of Pi, which is limited to the first 100,000 customers.
Another topic in Nook news today, B&N is offering some deals on books from authors and judges competing in the Tournament of Books. Here's the list of discounted books. The offer ends March 29th.
Well that concludes this Nook news post. Check back next week for whatever new promotion B&N's marketing department comes up with.