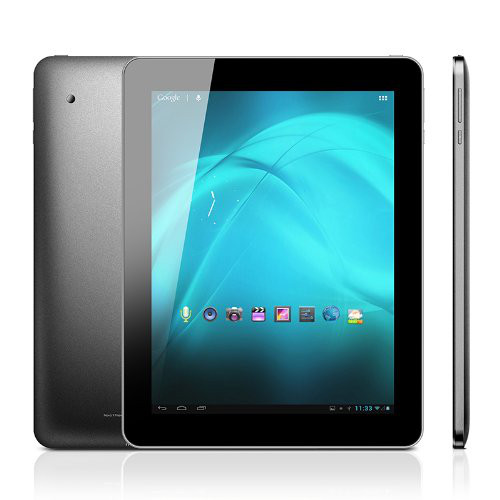 Last week I posted about the new Archos 97 Titanium HD tablet that is among the first Android tablets to have a screen similar to that of the Apple iPad 3 and 4, with a 9.7″ display and screen resolution of 2048 x 1536.
High pixel density screens like that are great for reading because text is super clear and sharp, even really tiny text.
Today I went looking for some more tablets with super-high resolution screens like that, and turned up three Android tablets listed over on Amazon with the same Retina quality screen resolution.
There's the Onda V972, the Freelander PD80, and the Ainol NOVO9 Spark. I think they are all the same basic tablet just with different brand names, although the last one is listed as having a larger battery.
Spec-wise all three are very similar to the Archos Titanium HD. They all run Android 4.1, have front and rear cameras, and have a micro SD card slot. The main difference is they come with a Cortex A7 quad core CPU instead of a dual core Cortex A9 processor (not sure which performs better), and they have 2GB of RAM instead of 1GB, not to mention more base storage space. These also include a mini HDMI port, whereas the Archos does not.
All three sell for around $300, which is about $50 more than the Archos tablet. The listings are new so there aren't any reviews yet, so who knows if they are any good or not. I just got an Archos Titanium HD two days ago to review, and while I haven't had enough time to get to know it yet, it definitely has some good things going for it and the screen is quite nice.
It's good to see more tablets with Retina quality screens hitting the market. Once you go Retina, you can't go back.