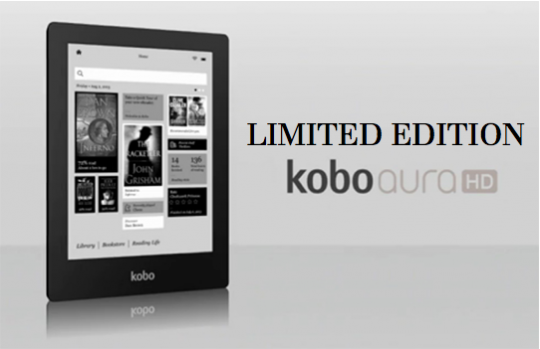 When Kobo announced their new Aura HD eReader two days ago, I was overwhelmed with excitement. Within seconds of seeing Nathan's post on my Google Reader feed, I was on Kobo's website placing my pre-order. The Aura HD embodies everything I have ever wanted in an E Ink device: a real HD E Ink display with over 250 dpi, a larger screen size, a fast processor, and superior firmware. The Aura HD will feature all of these elements, but the 1440 x 1080 (265 dpi) display and unique 6.8″ screen size are what I am most thrilled about. Finally, readers will be able to see HD E Ink in all of its glory.
After years of being stuck with "good enough" 800 x 600 resolution displays on the Kindle, Nook Simple Touch, and other eReaders, Amazon and Kobo finally got into the high-resolution game last year with the release of their respective front-lit eReaders, but even Amazon's 1024 x 768 ("62% more pixels") Paperwhite display failed to wow me in the way I was hoping. I think that the capacitive touch light guide, placed across the top of the display to diffuse the LEDs, makes text look only slightly better than it did before. Fonts definitely look bolder and a bit sharper, but they lack the crispness and clarity I wanted to see. High-resolution is great, but anyone holding a first-gen Kindle Fire next to the Kindle Fire HD or an iPad 4 can see that high-definition is much better.
In a past Mobileread exchange I got into (prior to the Kindle PW and Glo releases), one particularly vocal member insisted that my desire for an HD E Ink display was unrealistic, even "disingenuous." Others pointed out that the added cost would prevent bottom-dollar pricing and claimed that the visual difference would be almost imperceptible in comparison. According to their reasoning, the 800 x 600 displays did the job, and there was no "genuine necessity for improvement." I will admit that text displays just fine on my old Kindle Keyboard, but when I stare into the majesty of my Google Nexus 10's 2560 x 1600 uber-retina display, it reminds me that incredibly high screen resolutions can do so much more for my reading experience. I couldn't help but wonder what HD would be like on an E Ink display, and I knew that I wasn't the only one.
The added cost of an HD E Ink display does, however, present a real problem. The Amazon/B&N/Kobo price wars have kept eReader quality in the no-frills category for awhile now. Then came the advent of front-lit displays; this would surely mean that other features would have to suffer to keep the price tags low. My dreams of an HD E Ink reader began to fade.
Then Kobo decided to change things up with a very interesting business decision, one that could start a new trend in eReader development.
Kobo claims that the Aura HD is a "limited edition" eReader. This implies that there will be a much smaller production run and that pre-orders will probably determine their projections for the number of units that they will make. Due to the ridiculously low price expectations of today's eReader market ($69-$99), Kobo wisely doesn't want to take the risk of adding a more expensive, high-end eReader to their list of standard devices. Things could go wrong, like they have with Amazon and B&N's 9″ tablets, and Kobo could be left with a lot of unsold stock in their warehouses. By making the Aura HD a limited edition eReader, Kobo can both serve the needs of a niche market of eReading enthusiasts, and they might even be able to walk away from the deal without losing their shirts. I'm hoping that this move will start a new trend in eReader production—it would be interesting to see Amazon come out with a premium limited edition Kindle. Technological progress should not be stalled by the constraints of the general market. Interest in more expensive and more advanced Onyx Boox and Cybook eReaders from overseas by readers in the U.S. shows that there are people who want something better from their eReaders, and they are willing to pay more for it.
When I first heard about this "limited edition" eReader concept, I immediately thought about fine press publishers like Easton Press and The Folio Society. Both print books of immaculate quality with standard titles costing around $50-$70 and limited edition selections going for much much higher than that. Amazon has driven the expected price of books down to around $10-$15 for a new hardback, but this hasn't stopped these specialty publishers from offering books made with the highest possible grade of craftsmanship and materials. For example, Easton Press publishes a dozen or so Deluxe Limited Editions over the course of a year and will sell them to ardent EP collectors until they are gone. The average cost of a single volume is usually over $200 with multivolume sets costing hundreds of dollars each. These books are not made for everyone to purchase, but those who will appreciate them the most have the option to buy them. Sure, the majority of consumers will be satisfied with a free public domain eBook copy of William Shakespeare's The Tempest, but others are willing to shell out over $400 for a leather bound limited edition. Should they not have this option just because the $1.80 Dover Thrift Edition is all they really "need"?
Like limited edition books, limited edition eReaders could follow the same business model. A company could produce a run of 10,000 or so eReaders with the latest HD displays, tablet-grade processors, advanced firmware, and metal casings. They sell them until they are out-of-stock, and then move on to continue focusing on their $69-$119 leaders. They could even open up pre-orders earlier in the year and make only enough needed to fill them. As long as the company makes a profit and readers are happy, why not?
Hopefully, the idea of the "limited edition" eReader will work well for Kobo. Maybe other companies who formerly took pride in making high quality eReaders with the most advanced features (here's looking at you Sony) will follow suit. Not everyone will care whether or not their E Ink display is retina quality, but for those that do, the Aura HD is a promising sign.