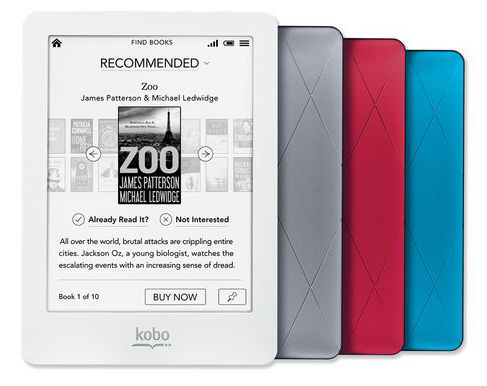 Remember last week when I posted about how my Kobo Glo had become too buggy to function? It kept freezing up and not responding, the covers all disappeared from the homescreen, and it kept giving a network connection error whenever I tried to sync to upgrade to the new 2.5.1 software.
Well, I eventually figured out what the problem was. And it's all thanks to the Kobo Aura HD.
Yesterday when my Kobo Aura HD showed up at my door, I opened it up and just like the Kobo Glo and Kobo Mini I started the ridiculously long process of setting it up. Everything went well until after I signed into my Kobo account.
Once I got past all the annoying setup, none of my Kobo ebooks would show up anywhere on the Kobo Aura HD. It was just a blank slate asking to add ebooks, but I could not access any of my purchased ebooks anywhere. Even when I ran a search for a specific title that I had purchased, I could not download it, just re-purchase it.
It was very frustrating and I was about ready to throw my Kobo Aura HD out the window, but then I decided to go through everything in the settings menu to see if I could figure out how to get the device to properly recognize the purchased ebooks associated with my Kobo account.
Then I finally discovered what the problem was with both my Kobo Glo and Kobo Aura HD. Both devices had the wrong date and time set. For some reason both thought it was May 2012.
Simply changing the date and time in settings fixed everything. After hitting the sync button, my Kobo Aura HD downloaded all my Kobo ebooks and my Kobo Glo upgraded itself to the newest 2.5.1 software and all the covers returned to the homescreen and the device started working smoothly again.
So the first thing you are going to want to do if your Kobo ereader ever starts acting buggy and is doing strange things is to check the date and time and make sure it is correct. It's amazing how a little detail like having the wrong date entered can make a Kobo ebook reader unfunctional.