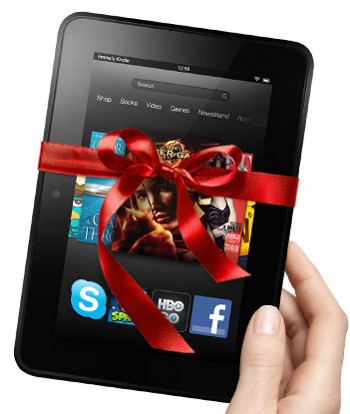 Mother's Day is drawing near so it's time for all the Mother's Day sales to start kicking in. There are some good deals to be had on tablets, ebook readers, Kindle covers and cases, and ebooks too. Even Sony is getting in on the action with a sale on the PRS-T2. And B&N is selling the Nook HD and Nook HD+ at record low prices.
To start things off, Jump Desktop is the free Android app of the day over at Amazon. It is a remote desktop app that normally costs 10 bucks.
Kindle Covers and Cases
Up to 30% off select Kindle covers
Up to 50% off select Kindle Fire cases
eBooks
100 Kindle eBooks for $3.99 or less
227 Nook Books for $2.99 or less
Barnes and Noble has just started a new "Buy One Get One Free" offer for Nook Books where you can get a free Nook ebook with the purchase of a Nook ebook from a select list of 20. This offer is only valid in Barnes and Noble retail stores on Saturdays and Sundays, and the selection of books changes every weekend.
Kobo Discount Codes
Below is a list of some discount codes for ebooks from Kobo.com. These codes could expire at any time. Codes found via MobileRead:
Welcome20 (20% off)
anniversary20 (20% off)
save20bday (20% off)
gettingtoknowu08 (30% off)
Comeback3302_3 (35% off)
Comeback2503_4 (25% off)
Comeback3102_3 (30% off)
VoucherCode30 (30% off)
thanks3702_3 (35% off)
Tablets
$429 Google Nexus 10 32GB (refurbished) via eBay.
$299 Apple iPad Mini 16GB at Walmart
$179 16GB Google Nexus 7 (refurbished) at Walmart
$179 Samsung Galaxy Tab 2 at Newegg
$149 Samsung Galaxy Tab 2 (refurbished) at Walmart.
$239 8.9" Kindle Fire HD (refurbished) at Amazon.
$169 7" Kindle Fire HD (refurbished) at Amazon.
$134 Kindle Fire (refurbished) at Amazon
$69 Nextbook 7″ with Google Play at Walmart
$57 7" Android 4.0 Tablet at Amazon (I've never seen this one before; that's about as cheap as it gets.)
Update: Barnes and Noble has dropped the price of the 7-inch Nook HD tablet to $149 and the 9-inch Nook HD+ to $179 through Mother's day, May 12th, both in stores and online at Nook.com. In case you haven't heard both devices come with access to Google Play now for apps, music, movies, and other content.
eBook Readers
$99 Sony Reader PRS-T2 at Sony (the black model comes with a free voucher for the first Harry Potter ebook)
$129 Kobo Glo with free SleepCover at Powell's Books
$104 Kindle Paperwhite (refurbished) at Amazon.
$89 Nook Simple Touch with GlowLight (refurbished) at Frys.com.
$59 Kindle Touch (refurbished) via Best Buy's Marketplace.
$375 JetBook Color at Newegg (I wouldn't advise buying this but that's as cheap as I've seen it)
UK Deals
£39.99 Kobo Mini (black and white) at eBay