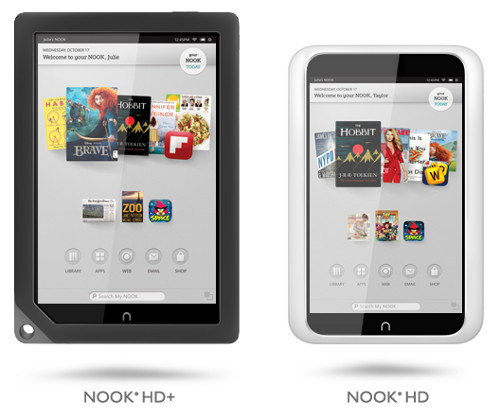 Barnes and Noble is running yet another sale on the Nook HD and Nook HD+ tablets, and it's the best deal yet, especially now that they come with access to Google Play. The Nook HD starts at only $129 for the 8GB model and the Nook HD+ is $149 for the 16GB model.
Those are some crazy good deals when you consider the fact the Nook HD has the highest resolution screen of any 7-inch tablet on the market, and the Nook HD+ with its larger 9-inch screen is far more economical than other large-screen tablets at that price. By comparison, the equivalent Kindle Fire HD sells for $269; that's the price the Nook HD+ normally sells for as well.
Speaking of Kindles, you have to wonder what Amazon thinks of all these Nook sales lately. Amazon usually has the lowest prices around and even they can't get anywhere close to the low prices that Barnes and Noble is selling the Nook tablets for lately. Amazon's Father's day deal only took $20 off the price of a Kindle Fire HD, and for some reason they've already ended that deal.
It's hard to believe you can get a 9-inch tablet with 256 ppi and an IPS screen for $149. Sure it lacks cameras but it has a microSD card slot, Bluetooth, a 1.5GHz dual-core processor, and 10 hour battery life. Compared to other large-screen tablets on the market, that's one of the best deals that can be had.
The regular Nook HD is a good deal at $129 too, but there's more to consider with it because there are more options available in the 7-inch tablet category. If I were in the market for a 7-inch tablet, the Nook HD would be pretty appealing at that price, but ultimately I would personally go with the new Hisense Sero 7 Pro tablet from Walmart for $149. For $20 more you get a quad-core processor, an HDMI port, front and rear cameras, GPS, NFC, and an unmodified version of Android 4.2 (the Nooks run a modified version of Android 4.0).
Anyway, if you want a Nook, now is the time to get one. They are available through June 16th at these prices from Barnes and Noble.com, retail stores, and from some Nook resellers like Walmart and Frys.com.
Update: Barnes and Noble has extended this deal beyond Father's day. They give no date on when the deal expires so this could permanent.