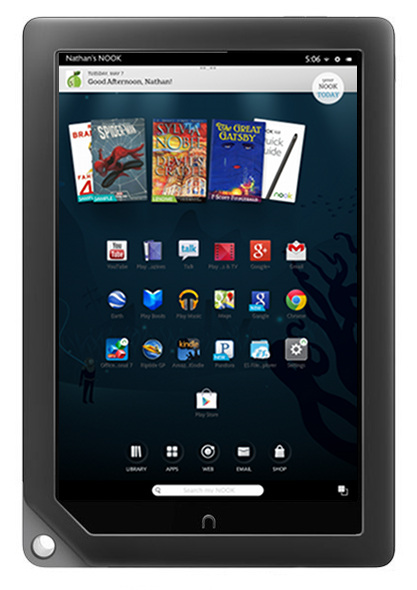 First and foremost, it should be noted that this article is more of an addendum to my initial review of the Nook HD+ that was posted back in November when the device first came out rather than a completely new review. I'm not going to cover any of the hardware details or any specific Nook features since that was all covered in the first review.
Overview
This review is going to cover all the new details and features added after what happened last week when Barnes and Noble decided to issue a software update for the Nook HD and Nook HD+ to add support for Google Play and Google apps.
I was as shocked as anyone when the announcement was made; I never expected B&N to make a move like that. I thought maybe they'd bring back the option to sideload Android apps from outside the Nook appstore like the Nook Tablet used to be able to do when it was first released before B&N closed the door with an infamous software update, but I never thought B&N would partner with Google and start shipping their tablets with all of the core Google apps pre-installed, including the competing Google Books ebook app.
Apps
Here's the total list of Google apps that come pre-installed on the Nook HD and Nook HD+:
Google Play (most apps install without issue)
Chrome Web Browser
Gmail
Google+
Google Voice Search
Google Settings
Google Maps (with Street View)
Play Books
Play Magazines
Play Movies & TV
Play Music
Google Talk
YouTube (HD mode looks good and runs smooth)
You can also install various other Google apps from the Play store, like Google Earth, Calendar, Currents, etc. And the fun doesn't stop at Google apps either. That's the main advantage of having Google Play access is that you can install pretty much any Android apps that you want, even ereading apps like Kindle and Kobo. There are no B&N imposed restrictions at all. And there are tons of free games, like Temple Run 2, Jetpack Joyride, Angry Birds, and Dead Trigger.
Basically the software update took the Nook HD and Nook HD+ from having a selection of about 10,000 apps to install from the Nook appstore, to over 700,000 Android apps from Google Play.
More Content and Customizations
And it's not just about getting Android apps either. Google certification grants the Nook HD and HD+ access to content from Google's MP3 music store, Google's selection of movies and TV shows, magazines, and even ebooks too.
One thing I was interested to find out is that you can even install alternate launchers for different homescreens and further customization. I tried Nova launcher and ADW launcher and both work well. The only caveat is the Nook's modified operating system is still present with the custom header and footer bar, along with the other OS tweaks like the recent apps list and modified menu layout. Because of that alternate launchers don't have quite the same feel as on other tablets, but widgets, shortcuts, and folders still work like normal so it's pretty close to an open tablet feel.
New Software Tweaks
I, for one, actually like B&N's homescreen. They updated it to support widgets now, so all the usual Android 4.0 type widgets work. B&N's homescreen also has a carousel widget that I like for showing a list of recent ebooks. You can remove the carousel if you don't like it, and customize it to show just ebooks or apps or other content, which is a great idea and is something Amazon should offer on the Kindle Fire.
One thing B&N forgot with the homescreen is the ability to create folders. Another thing is they left the option to add bookmarks from the web browser to the homescreen, except it no longer works because B&N removed their custom web browser in favor of Google Chrome with this update, and bookmarks from Google Chrome don't show up on the list.
Speaking of web browsers, I'm probably one of a few that isn't too happy with Google Chrome replacing the stock browser. The stock browser had more features, like offline reading and an article view that formatted web pages nicely for reading. Chrome is a competent web browser but it's so bare bones I can hardly stand using it anymore, and I especially hate how it insists on loading mobile versions of web pages by default. At least there are plenty of other options in Google Play, just not the stock browser…
Other than the loss of the stock web browser and the addition of widgets on the homescreen, nothing else about the Nook interface has really changed with the Google Play update. All the Nook features still work the same, the user profiles are still around, and the Nook appstore is still in business. Yep, you can still get apps from B&N if you choose (don't forget the free app every Friday!).
So far, all my B&N apps are integrating nicely with Google's. The way you can tell a B&N app is it has a little "n" icon in the upper right corner. The only thing is that whenever there is an update, Google wants to update the Nook app, so that changes it over to Google's affiliation.
Negatives
One interesting detail I noticed when trying to install an app via Dropbox is that the Nook HD/HD+ still cannot sideload Android apps (not directly anyway; there's always been the complicated ADB method for sideloading without rooting). This is a small detail given the fact the Nook can install pretty much anything from Google Play, but if you wanted to install the Amazon appstore for instance to take advantage of their free daily app, you would not be able to because it is not available in the Google appstore.
Other than a few random app crashes, the only other negative that I've encountered is battery life seems to have taken a slight hit. Maybe it's just because I've been downloading a lot more things and using the Nook HD+ more, but it just seems like I'm having to charge it more often than before. B&N quotes 9-10 hours of usage. Seems a little less than that now.
Conclusion
To wrap things up, I think that adding Google Play to the Nook HD and Nook HD+ was the best thing that Barnes and Noble could have done to make their tablets more appealing to customers. B&N's content is still front and center, but instead of being locked into B&N for apps and other content, now customers have the option to access all the resources available on most other Android tablets. Combine that with the Nook's high quality screen that's perfect for reading and the low price, and now suddenly the Nook HD and Nook HD+ are stiff competition in the marketplace.
Before the 2.1.0 update, and in my initial review of the Nook HD+, I had trouble referring to the Nook HD/HD+ as full tablets because they couldn't do many of the tasks a cheap $99 Android tablet could do, but now they are both much more versatile devices.
The update did not provide them with any cameras or a regular HDMI port, however, and they are running an older, modified version of Android 4.0 Ice Cream Sandwich instead of Android 4.2 Jelly Bean like some newer tablets, so they still have a few negatives to consider before going out and getting one. I would say that Amazon suddenly has good reason to worry, though, because if I had to choose between the Nook HD/HD+ and the Kindle Fire HD, I'd probably have to go with the one that offers Google Play and a microSD card slot.
Nook HD+ with Google Play Video Review
P.S. The Nook HD and Nook HD+ are on sale through May 12th for $50-$100 off the regular price, making the Nook HD $149 and the HD+ $179.