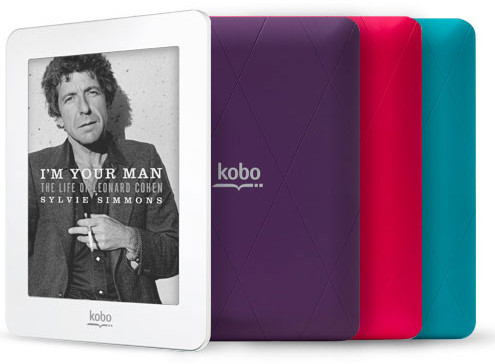 It appears that Barnes and Noble's recent epidemic of fire sales on the Nooks is catching. Kobo is joining in on the fun by offering their Kobo Mini ebook reader for an all-time low price of $39.99 in the US and Canada from Kobo.com, Powells, Indigo, and other Kobo retailers.
The price of ebook readers just keeps getting lower and lower all the time. I can't recall ever seeing a new E Ink ebook reader being offered for such a low price that wasn't discontinued or really crummy.
Kobo is setting a new standard for a lower price. Previous sales on the Kobo Mini had it down to $49. But $39? That's really a good deal for the amount of features it has.
I reviewed the Kobo Mini last November and thought it was a good ereader at the regular price of $79.
It has a 5″ E Ink screen with an infrared touchscreen, 2GB of memory, an 800MHz processor, Wi-Fi, web browser, sketch pad, some games, and it supports ePub, of course.
The biggest thing that separates the Kobo Mini from other ereaders is its small size. At 4″ x 5.2″ x 0.4″ it truly is pocketable, and it only weighs 4.7 ounces.
The Kobo Mini lacks a frontlight and microSD card slot that come on the larger Kobo Aura HD and Kobo Glo. But the software is 90% the same. The homescreen has a different layout but all the reading features are the same.
The sale on the Kobo Mini ends on July 18th, according to Kobo. Don't forget they are also offering $20 off the Kobo Glo and Kobo Arc until the end of June.