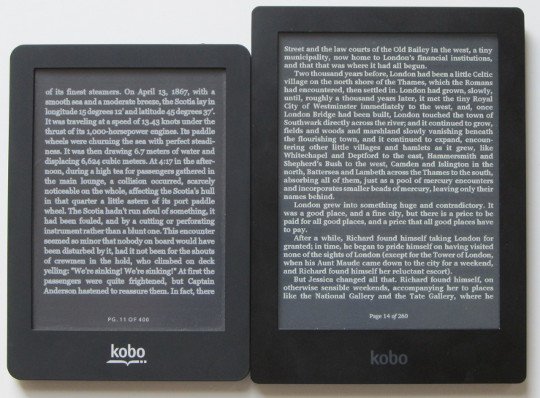 I came across an interesting trick at MobileRead the other day for Kobo's line of E Ink ebook readers—the Kobo Glo, Kobo Mini, Kobo Touch, and Kobo Aura HD—to get them to display white text on a black background instead of the usual black text on a white(ish) background.
It's a straightforward trick that doesn't require any other hacks or tweaks (except with the Kobo Mini you need to install an additional tool to enable night mode since it doesn't have a light or home button to turn night mode on/off).
I've used night mode on a hacked Nook Touch before, but this is the first time I've seen it on an E Ink ereader since. Night mode is of course meant for backlit LCD tablets, phones, and computers to help minimize the bright white light emitted from the screen while staring at it for long lengths of time while reading, especially at night.
On an E Ink ereader the concept isn't quite the same since there isn't any light being emitted from behind the screen. Nevertheless some folks would rather have white text on a black background, and it does have some advantages. Plus you have to admit it does look pretty cool. The one downside, though, is that ghosting is more apparent.
If you want to give night mode a try, here's how to do it. I'll give the short and simple method; more detailed information can be found on MobileRead and Github. There are directions over there to further tweak the settings if you want.
How To Enable Night Mode on Kobo eReaders
1. Download the latest Kobo Night Mode Zip File to your computer from over at Github. Update: Firmware updates sometimes break this so check MobileRead and Github for updates.
2. Extract the kobo-nightmode_build8.zip. Inside you'll find folders for installer, uninstaller, and extra.
3. Plug your Kobo eReader into your computer with the USB cable. On the Kobo device choose to connect to your computer when asked.
4. After connecting your Kobo device, now all you need to do is copy the KoboRoot.tgz file from the Kobo Night Mode installer folder to the .kobo folder on the root of the Kobo eReader drive. Do not extract the KoboRoot.tgz file.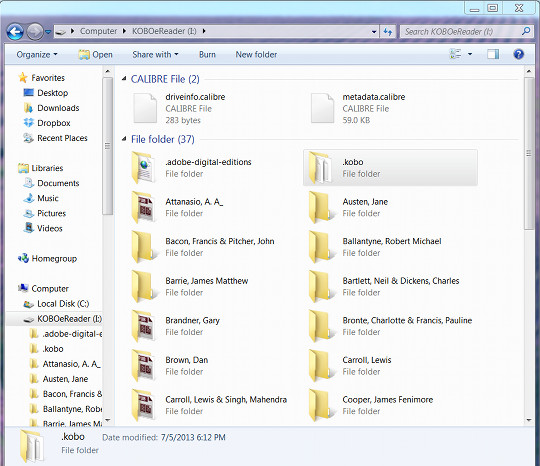 5. After coping over the file, close the Kobo drive and choose to safely remove/eject the device from your computer. Then unplug the USB cable and the Kobo Reader will automatically restart.
6. To turn on Night Mode, simply hold down your Kobo's light button for 1 second, or the home button on the Kobo Touch. Since the Kobo Mini doesn't have any extra hardware buttons, you have to use a separate tweak called KoboLauncher to enable night mode, which I haven't tried yet so cannot comment on.
If you want to uninstall the night mode tweak, just follow the directions again but use the KoboRoot.tgz file from the uninstaller folder instead.