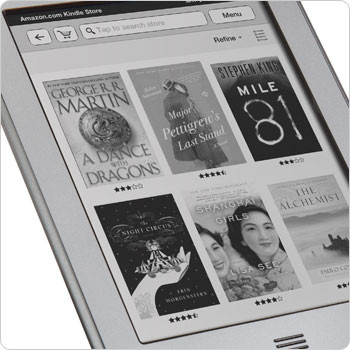 Yesterday Amazon issued a firmware update for the Kindle Touch that adds a few new features. Nothing major, just a couple of details that were added to the Kindle Paperwhite with recent software updates.
Isn't it interesting how Amazon keeps retrofitting most of the new features from the Kindle Paperwhite to the Kindle Touch? It's good to see them continuing to support the Kindle Touch, even though it was on the market for less than 1 year before it was replaced by the Kindle Paperwhite. Now Amazon only sells refurbished Kindle Touches.
The 5.3.7 update for the Kindle Touch provides the following new features:
Improvements when buying from a book sample

While reading a sample of a book, you can view the price of the full book and purchase from the reading toolbar with one tap.

View full definition when looking up a word

When you look up a word in the dictionary, you can now view the full definition in the definition window.

Search enhancements

You can easily search for a highlighted word or phrase in your book, your items, or in the Kindle Store. Highlight the word or phrase, tap More, and then tap Search.
Like all software updates for Kindle devices, your Kindle will automatically update to the latest software available if you keep wireless turned on. Sometimes it can take a week or two to receive an update because Amazon generally rolls them out slowly. Or if you'd rather not wait you can download and install the update manually right now.
The updated software file and install instructions are located on the Kindle Touch Software Update page over at Amazon.