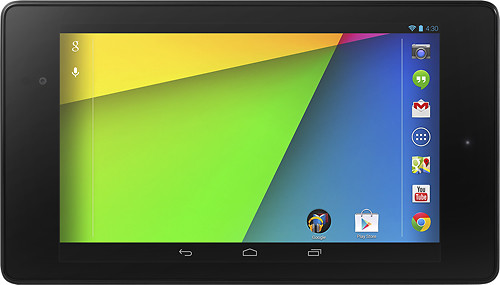 In one of the worst kept secrets ever, Google officially unveiled the 2nd generation Nexus 7 tablet today. Various leaks before the announcement revealed all the key details ahead of schedule, so there weren't really any big surprises.
Google's latest 7″ tablet runs Android 4.3 Jelly Bean and comes in three varieties, there's a 16GB version for $229 and a 32GB model for $269, and a 4G LTE model for $349. Among the key features are front and rear cameras (1.2MP front and 5.0MP rear), Bluetooth, GPS, NFC, and wireless charging. The device has a quad-core 1.5Ghz Snapdragon processor with 2GB of RAM and an Adreno 320 graphics chip.
By far the most impressive feature with the new Nexus 7 is the screen. It has as an unprecedented 1920 x 1200 7-inch screen with an impressive 323 pixels per inch. By comparison, last year's Nexus 7 has 216 ppi, and the Nook HD, which had the highest resolution screen of any 7″ tablet until now, has 243 ppi. The new Nexus 7 takes screen sharpness to an entirely new level.
Text is going to be incredibly clear and easy to read on the 2nd gen Nexus 7. The screen alone could make it the best tablet for ereading. Couple that with the lightweight design and all the ereading apps available in the Google Play store, this is going to be one formidable tablet for ereading, let alone all the other features it has.
The new Nexus 7 will be available starting July 30th from retailers such as Amazon, RadioShack, Walmart, and Best Buy. It is launching in eight countries initially with more to follow soon.
Google Nexus 7 Specs (2nd Gen)
7 inch, 1920 x 1200 pixel display (323 ppi)
1.5 GHz Qualcomm Snapdragon S4 Pro quad-core processor
Adreno 320 GPU
Android 4.3 Jelly Bean operating system
2GB RAM
16GB/32GB internal storage
5MP rear camera and 1.2MP front-facing camera
802.11b/g/n Wi-Fi
4G LTE optional
Bluetooth 4.0
NFC support
Micro USB port with SlimPort (allows you to connect an HDMI cable to stream content to a TV with a SlimPort adaptor)
Wireless charging
Stereo speakers, headphone jack
Up to 9 hours battery life
Dimensions: 7.9″ x 4.5″ x 0.3″
Weight: 11.2 ounces
Price: $229 for 16GB, $269 for 32GB, $349 for 4G LTE model
Check back soon for a full review of the new Nexus 7 tablet. I look forward to testing it out, especially from an ereading perspective, and not just ebooks but all forms of ereading, from PDFs to comics and magazines to web reading and everything in between.