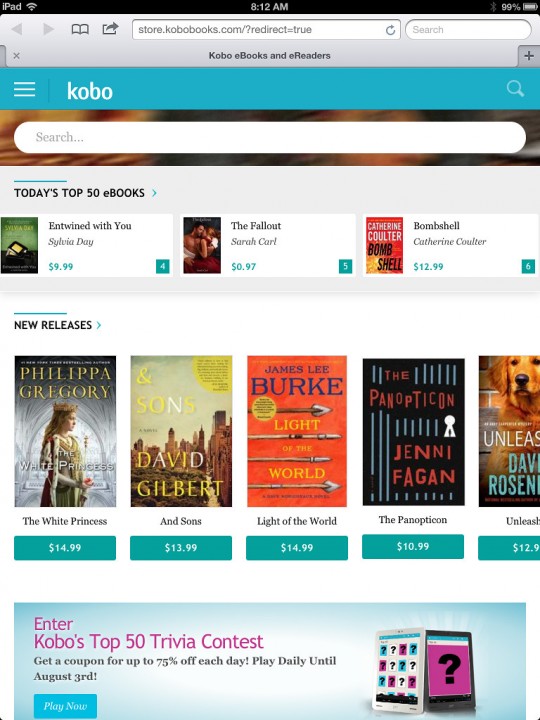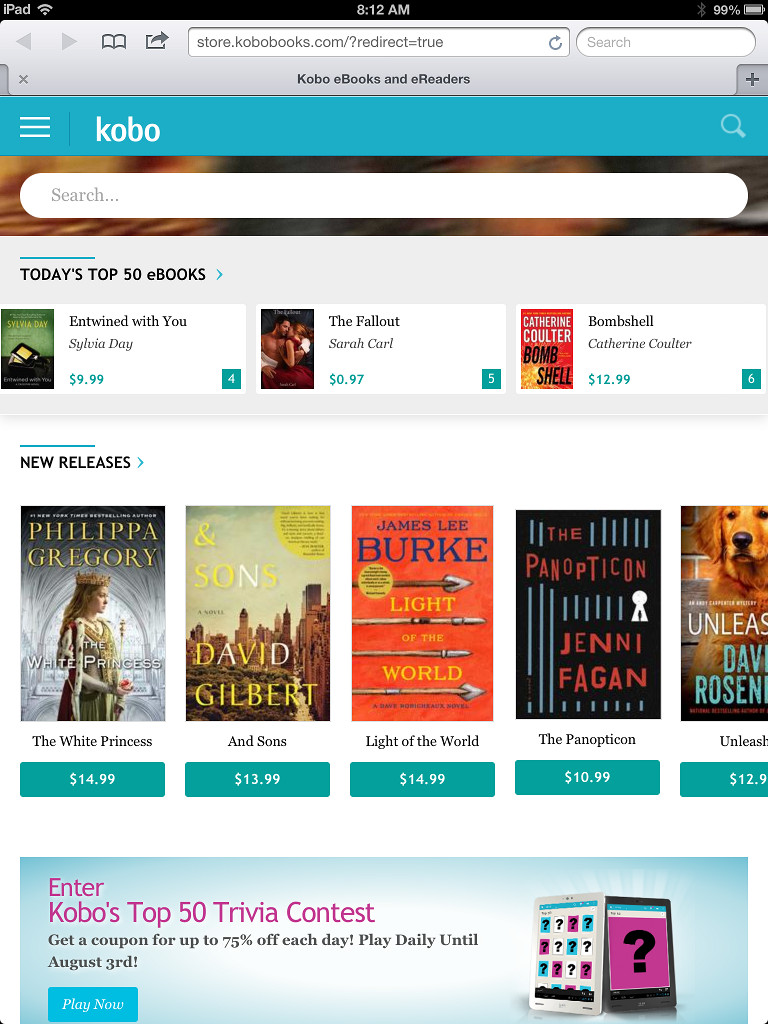 Kobo recently started rolling out a completely new design for their ebookstore. It's not live everywhere yet; it seems to depend on where you live and which web browser you are using. For instance, I can see Kobo's new website with the iPad, Android tablets, and and on my PC with Internet Explorer, but Chrome and Firefox still show the old website.
Aside from the new look, you can tell you are viewing Kobo's new website by looking at the url. The new site is using a sub-domain so instead of seeing www.kobobooks.com, everything is now store.kobobooks.com.
Kobo officially announced the new website design earlier in the week. They say that it is meant to make finding ebooks and digital content easier. They also mention improvements to their search engine that allows users to filter results by language, media type, and genre, as well as titles eligible for discount codes.
Personally I haven't had enough time using the new website to tell if I really like the new design or not. It clearly seems to be more designed for mobile devices with touchscreens. Book covers are larger. There's more scrolling and more spacing.
One thing I really don't understand about the new design is they have removed reviews and ratings. Overall the book description pages are similar between the old design and new. It still has big bar of recommended titles covering up the book description. I don't know why they would get rid of reviews. Their old review system was through Goodreads, which was recently acquired by Amazon, so maybe that's the reason.
So what do you think about Kobo's new website design? Do you like it? Or is it going to send you over to some other alternative ePub ebookstore like Sony or Google?
Here are a few screenshots below in case you can't see the new website just yet. Kobo says they will be rolling out the new design over the next few months, so it might take awhile for it to appear where you live.
iPad Screenshots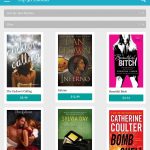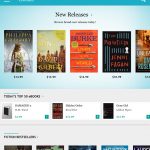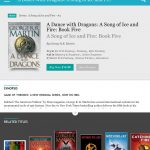 Internet Explorer Screenshots