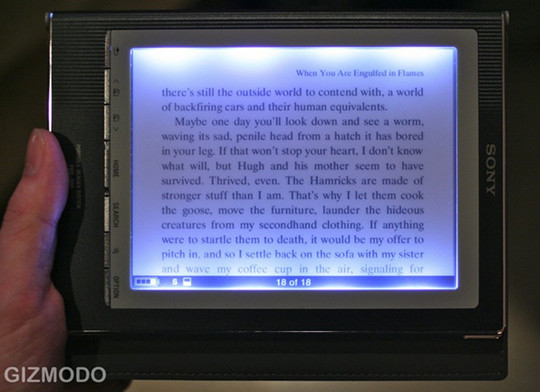 Sony is expected to announce a new ebook reader in August, the Sony PRS-T3. We already know that it has a 6″ screen and has a slightly different design than last year's PRS-T2 based on the few photos that turned up in the FCC paperwork.
One thing the photos and paperwork don't reveal, however, is whether or not Sony's latest ebook reader will have a frontlight. All the major ebook reader brands now offer E Ink devices with built-in frontlights—Amazon, Kobo, even the outdated Nook. Even lesser-known brands like Pocketbook and Onyx have frontlight-equipped ereaders.
At this point, Sony is about the only ereader company that doesn't offer an ebook reader with a frontlight, which is ironic considering they were the very first company to release an E Ink ebook reader with a built in light. They did it nearly 5 years ago with the Sony PRS-700.
The lighting tech was different back then, but it was the same basic idea as today's frontlit ebook readers. The PRS-700 had LED lights built into the side of the screen. You could turn the lights on and off, and there were two brightness settings.
One of the problems with Sony's first touchscreen ebook readers was they had a capacitive touch layer that was very glossy and reflective. Adding lights underneath it just made matters worse.
The PRS-700 was criticized greatly for the uneven lighting and glossy screen. It only managed to stay on the market for about 8 months before Sony pulled the plug on it. And they've never tried releasing a lighted ebook reader since. Hopefully Sony is willing to give it another try with the PRS-T3. If not, Sony fans will have to resort to buying an old used PRS-700 to get any kind of built-in lighting system.
Looking back at some old photos and YouTube videos you can see just how awful the lighting was on the PRS-700's screen. Talk about uneven lighting. The Kindle Paperwhite's blotchy frontlight looks spectacular by comparison.
Sony PRS-700: Sony's First Lighted eBook Reader
image via Gizmodo