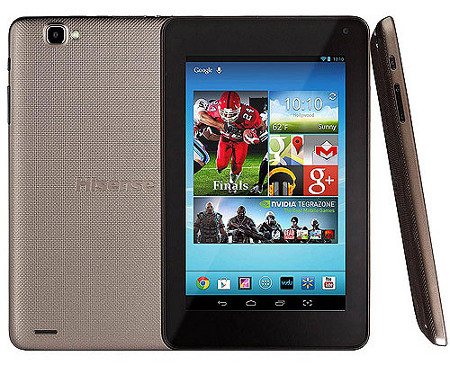 Back in June when I reviewed the Hisense Sero 7 Pro, I was surprised by how nice of a tablet it was for $149 (it's basically the 1st gen Nexus 7 with an HDMI port, microSD card slot, and rear camera with flash) and now the price has dropped even lower down to $129. It's amazing how inexpensive good quality Android tablets are getting these days.
Just when you think a price point of $199 has been established for decent 7-inch tablets, Walmart and Hisense blow the doors off by taking an additional $70 off the price. There's also the Hisense Sero 7 Lite, which used to sell for $99. They cut another $20 off of it too, making it $79. It has the specs of a tablet from a couple of years ago, though, so unless you really want to go the budget route you'd be better off spending a little more on the Sero 7 Pro.
One thing to note, the new lower price seems to vary from store to store. When the page first loads at Walmart, I see the lower $129 price, but it then reverts back to $149. It seems to depend on which Walmart store is selected; not all of them are showing the lower price. Unfortunately Walmart still does not offer shipping on the Sero 7 Pro; you have to pick it up in a retail store.
If you are looking to save $100 to get the Sero 7 Pro instead of the new Nexus 7, it's a pretty good buy. It doesn't have wireless charging or the super high resolution screen that the new Nexus 7 has, but it does have a few features the Nexus 7 lacks. Here's the rundown on the specs:
Hisense Sero 7 Pro Specs
7-inch ISP screen
1280 x 800 pixel resolution (216 ppi)
Android 4.2 Jelly Bean
8GB internal memory with 1GB RAM
MicroSD card slot for cards up to 32GB
1.3 GHz NVIDIA Tegra 3 quad-core processor
2 Cameras: Rear 5MP with Flash; Front 2 MP
Wi-Fi 802.11 a/b/g/n (2.4 GHz& 5 GHz)
Stereo speaker, 3.5mm headphone jack
Micro USB port for charging and transferring data (it supports external keyboards)
Mini HDMI port
Bluetooth 3.0
GPS
NFC – Near Field Communications (Android Beam)
Battery life: 7-10 hours – 4000 mAh
Dimensions:7.96 x 4.95 x 0.42 inches (199.8 x 125.8 x 10.8mm)
Weight: 12.7 ounces (360 grams)
Price: $129 at Walmart