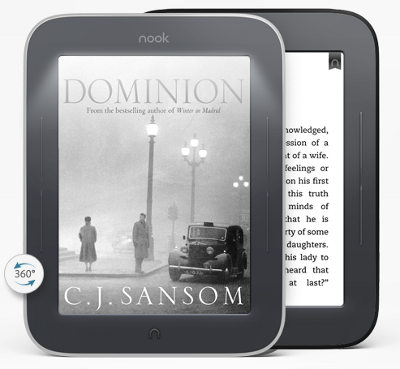 Yesterday Barnes and Noble announced a new lower price on the Nook Glow ebook reader.
When it was first released the Nook Glow sold for $139. Then when Amazon unleashed the Kindle Paperwhite on the world for $119, B&N matched the price. Now Barnes and Noble is cutting another $20 off the price to make the Nook Glow the lowest priced frontlight ebook reader at $99 (that's probably what it should have been priced at a long time ago considering the Kobo Glo and Kindle Paperwhite both have higher-resolution screens and better frontlights).
Of course the price cut could be viewed as B&N wanting to reduce stock in order to make room for a new and improved Nook Glow. Barnes and Noble usually releases a new Nook in the spring, but did not do so this year.
Even though B&N has been struggling lately, they have said that they still plan to design and release new E Ink Nooks (it's the Nook Tablets that they plan to outsource).
Considering the fact that the Nook Glow is almost exactly the same as the Nook Touch in every way (the only difference is the frontlight and weight), B&N is way overdue for a new Nook design and release. After all, the Nook Touch was first released over 2 years ago—that's a long time for a gadget to remain on the shelf without a refresh.
Speaking of Nook Touch, Groupon is currently running a sale on refurbished units for $49. Plus it comes with the standard 1-year warranty from B&N. Normally they sell for $79 new so it's not the greatest price. The deal expires in a couple of days, but we'll likely be seeing more sales like that in the future (awhile back they were about half that price when RadioShack was clearing out inventory).
Anyway, hopefully this price cut of the Nook Glow is indeed a sign that Barnes and Noble is getting set to announce a new Nook soon. It's going to be an interesting next couple of months with Amazon expected to release an updated Kindle Paperwhite and with Sony and Kobo both already having new ebook readers show up at the FCC.