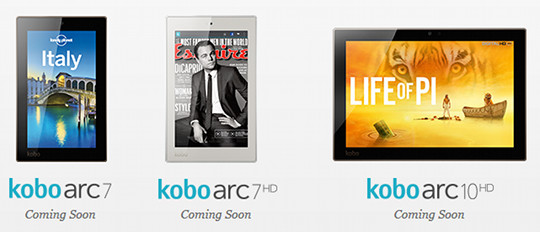 Yesterday Kobo announced a lineup of three new tablets in addition to the new Kobo Aura ebook reader. There's two new 7-inch tablets and Kobo's first 10-inch model, all of which are expected to become available in October.
Kobo seems to be taking a similar approach with their tablets as Amazon by offering two 7-inch models, one at a lower price and one with a better screen and specs for $50 more, along with a larger more expensive model.
Kobo's new 7-inch tablets look decent on paper. There's nothing super spectacular or particularly unique about them, but they have some solid specs for the price, and run open Android 4.2.2 Jelly Bean and are Google certified.
The Kobo Arc 7HD has a really nice 1920×1200 resolution display equivalent to the new 2nd gen Nexus 7. The processor isn't as high-end, but it's still a respectable 1.7GHz Nvidia Tegra 3 Quad-Core processor with 1GB of DDR3L RAM. The Arc 7HD also comes with a front-facing camera, a micro HDMI port, and 8 hour battery life, but it lacks many of the extra features found on the Nexus 7 II. At $199 for the 16GB model, it does cost $30 less, however.
For $149 Kobo is offering the watered-down model, called simply the Kobo Arc. This model really doesn't make very much sense. It's a downgrade from last year's Kobo Arc in terms of screen quality. It has just a 1024×600 resolution screen. But it does come with a micro HDMI port, front-facing camera, Bluetooth, 9 hours of battery life, and oddly it offers a key feature the more expensive Arc 7HD lacks: a microSD card slot. Still, something like the Hisense Sero 7 Pro has this totally beat spec-wise, and for $20 cheaper no less.
Now the real head-scratcher of the group is the 10-inch Kobo Arc 10HD. This is Kobo's first attempt at a 10-inch tablet, and while the specs are intriguing, you have to wonder what they were thinking when they came up with the price. The Kobo Arc 10HD is a mid-level tablet at the high-end price of $399. Don't get me wrong, it has a really nice high-resolution screen with 300 ppi, but there are some serious holes in the spec sheet for a device at that price point.
There are three problems that I see. First and foremost, there's no mention of a memory card slot. That wouldn't necessarily be a deal-breaker, but the measly 16GB of storage, with 12.9GB available, could be. It also lacks a rear camera, not to mention any nifty new features. Aside from the 2560 x 1600 resolution screen, it's a fairly average tablet. If I were Kobo I would have gone more for the budget route with something like the $249 Archos Titanium HD that I reviewed a few months back. But whatever… Guess they are going after last year's Google Nexus 10 instead.
Here's a more complete rundown of the specs for each new Kobo tablet via Kobo.com:
Kobo Arc 7 Specs
7″ 1024 x 600 Display, Capacitive touchscreen
Android 4.2.2 Jelly Bean operating system with Google Play
1.2 GHz MTK Quad-Core processor
1 GB DDR3L RAM
Front-facing 0.3 MP camera
Mono speaker, microphone, 3.5mm headphone jack with in-line microphone support
8GB internal storage
MicroSD card slot for cards up to 32GB
Wi Fi 802.11 b/g/n
Bluetooth v4.0
Micro USB port, Micro HDMI port
Battery life: Up to 9 hours; Up to 20 days of standby time; 4200 mAh capacity
Dimensions: 122 x 194 x 10.05 mm
Weight: 360 grams
Price: $149
Kobo Arc 7HD Specs
7″ 1920 x 1200 Display, Capacitive touchscreen with 10-point multi-touch
Android 4.2.2 Jelly Bean operating system with Google Play
1.7 GHz Nvidia Tegra 3 Quad-Core processor
1 GB DDR3L RAM
Front-facing 1.3 MP camera
Mono speaker, microphone, 3.5mm headphone jack with in-line microphone support
16GB/32GB internal storage
Wi Fi 802.11 b/g/n
Bluetooth v4.0
Micro USB port, Micro HDMI port
Battery life: Up to 8 hours; Up to 14 days of standby time; 4200 mAh capacity
Dimensions: 122 x 194 x 9.6 mm
Weight: 341 grams
Price: $199
Kobo Arc 10HD Specs
10.1″ 2560 x 1600 Display, Capacitive touchscreen with 10-point multi-touch
Android 4.2.2 Jelly Bean operating system with Google Play
1.8 GHz Nvidia Tegra 4 Quad-Core processor
2 GB DDR3L RAM
Front-facing 1.3 MP camera
Dual stereo speakers, microphone, universal 3.5mm headphone jack with in-line microphone support
16GB internal storage
Dual Band Wi-Fi 802.11 a/b/g/n with 2×2 MIMO
Bluetooth v4.0
Miracast support for Wifi media streaming
Micro USB port, Micro HDMI port
Battery life: Up to 9.5 hours; Up to 25 days of standby time; 6550 mAh capacity
Dimensions: 253 x 172 x 9.9 mm
Weight: 627 grams
Price: $399