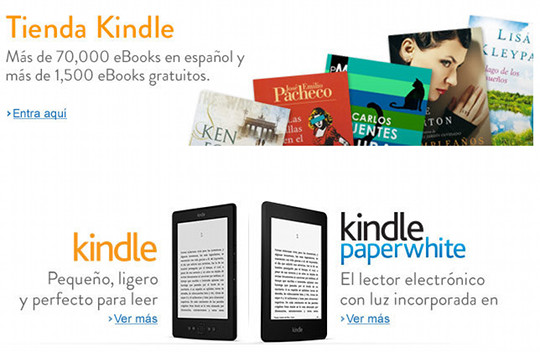 Today Amazon made an announcement, but it wasn't the one we've been waiting for. On Tuesday Kobo announced the upcoming release of three new tablets, the Kobo Aura ebook reader, a new Kids' ebook store, and a partnership with Pocket to bring web reading to Kobo's ereaders.
So what does Amazon do to counter? They launch a Mexico Kindle store and stop selling the WiFi Kindle Paperwhite in the US. What?!
I would've expected bigger news out of Amazon, but this is all we've got to work with right now:
New Kindle Store offers over 2 million eBooks sold in Mexican Pesos, including the most Spanish language best sellers, more than 1,500 free books in Spanish, and hundreds of thousands of exclusive titles, including works from authors like José Emilio Pacheco, Elena Poniatowska, Sergio Pitol and Carlos Monsivais, as well as comic books from Mafalda and Familia Burrón

The Mexico Kindle Store also includes titles with Nahuatl and other Mexican indigenous languages from the Instituto Nacional de Lenguas Indígenas, preserving an important part of Mexican heritage.
In addition to opening the Mexico Kindle Store, which can be found at www.amazon.com.mx, Amazon has also started selling the Kindle and Kindle Paperwhite locally in Mexico at Gandhi stores. The base Kindle starts at MXN$ 1,399. The WiFi Paperwhite costs MXN$ 2,399 and the model with 3G wireless is MXN$ 2,399.
Isn't it interesting that Amazon has no shortage of WiFi Paperwhites to sell in Mexico, but if you live in the United States they won't sell one to you.