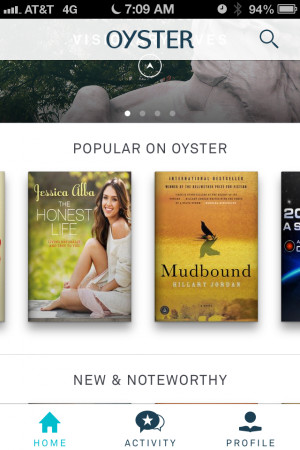 Earlier in the month Oyster launched a new service for ebooks that is similar to Netflix where users can get unlimited access to a catalog of content for a monthly fee.
In the case of Oyster, they have around 100,000 ebooks, and customers can read an unlimited number of those ebooks for a monthly subscription of $9.95.
The hardest part for Oyster is of course getting publishers to agree with this. Right now there are only a few publishers on board, including HarperCollins, Workman, Houghton Mifflin Harcourt, and Smashwords.
Personally I haven't tried Oyster yet because they currently only offer an iPhone app. Supposedly iPad and Android apps are coming later this year.
Any iPhone-wielding readers out there try Oyster yet? What's is the selection of ebooks like?
That's one of the biggest hurdles that I can see. Not only is there a limited selection of ebooks available, but Oyster doesn't show what ebooks or authors are available before signing up. Right now they are only offering the service by invitation only (you can request an invite on their website), so hopefully they will add a viewable online catalog at some point.
There are reviews of Oyster's ebook service over at Arstechnica and The Digital Reader that describe the app's features and what the service is like. Both agree that the selection of ebooks isn't great, but neither had a problem compiling a good-sized list of interesting ebooks to start reading.
The way Oyster works is you can download as many ebooks as you want to the Oyster app after forking over the monthly fee of $10, but you don't own the ebooks and you can't read them outside of the Oyster app. You can read them offline. But once you stop paying the monthly fee you can say goodby to your ebook library.
That's definitely the downside of a service like this. You're paying for something every month that you don't actually own and then when you stop paying you won't have anything to show for it. And what if Oyster goes under a couple years down the road? Then you will lose access to your library of ebooks.
A monthly subscription service for something like TV and movies works great, but I'm not so sure it will work as well with ebooks. I guess if you are a voracious reader and read several ebooks per week then it could save a lot of money in the long run. But then again you can get tons of ebooks from local libraries and they are free.