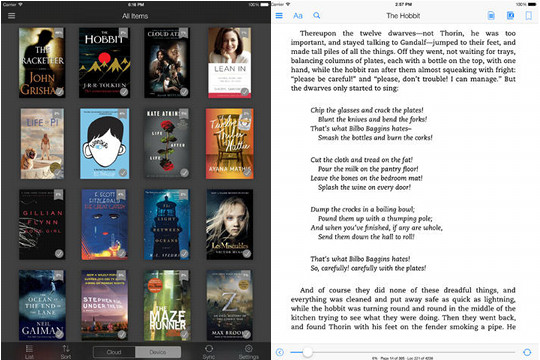 As Apple starts transitioning to their new mobile operating system, a lot of iOS apps are getting updated for compatibility reasons. Amazon released an update for the Kindle iOS app last week for that very reason.
Now just 10 days later, coinciding with the release of iOS 7, Amazon has another update for their popular iPad and iPhone reading app, and this time it's a pretty big one.
The 4.0 update brings a new design and something that has been missing for too long on the iOS app: collections. You can create collections to organize ebooks, magazines, comics, whatever into groups for better sorting. What's even better is that if you already have collections created on another Kindle, they will automatically synchronize and appear on the new Kindle for iPad/iPhone app.
It's good to see Amazon finally giving the Kindle app support for collections. That's a pretty huge deal considering that Amazon doesn't even offer collections on their very own line of Kindle Fire tablets. The Kindle for Android app lacks collections as well.
Other changes with the 4.0 update are mostly cosmetic. They've changed to a flatter style design, as is one of the core aspects of iOS 7. The menus have a new look, but the overall reading experience remains unchanged.
The usual performance enhancements and stability improvements are included in the update as well.