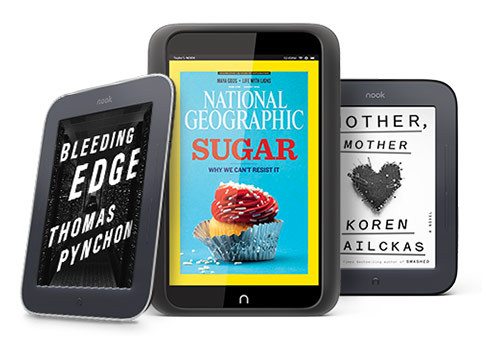 Barnes and Noble is running another sale on Nook ereaders and the Nook HD tablet this week (the HD+ is left out of this round of deals). The pricing breaks down as follows:
Nook Touch – $59 ($20 off)
Nook Touch with Glowlight – $79 ($20 off)
Nook HD 8GB – $109 ($20 off)
Nook HD 16GB – $119 ($30 off)
These prices are valid both in stores and online at Nook.com. The offer ends September 28th.
One could speculate that B&N is looking to clear out stock in order to make room for a new E Ink Nook and 7″ tablet, but Barnes and Noble runs so many sales that it's hard to tell with something like this.
Nevertheless, a $59 Nook Touch and $109 Nook HD are really good deals. It's easy to get desensitized by B&N's numerous sales and the ever-decreasing prices of Nooks to the point where it's not hard to overlook just how inexpensive Nooks are considering the prices of the competition.
The Nook Touch might be old news, but when compared to what Amazon offers at the bargain end it is a much better deal. The basic Kindle sells for $69, and that requires having to put up with advertisements. It's $89 for the non-ad model. The basic Kindle has the exact same 6-inch 800 x 600 resolution screen as the Nook Touch. Plus the Kindle lacks a touchscreen and a memory card slot.
The Nook Touch gets a lot of flack for being out-dated, but really the basic Kindle is just as out-dated if not more so, and it's more expensive.
Then there's the Nook HD for $109. The best Amazon has ever done price-wise on their equivalent Kindle Fire HD tablet is $159. Plus the Nook has the advantage with a higher resolution screen, a memory card slot, and full support for Google Play.
Amazon has the reputation of having the lowest prices when it comes to Kindles and ereaders, but that's not really true anymore, and hasn't been for awhile, especially when considering the non-subsidized models.