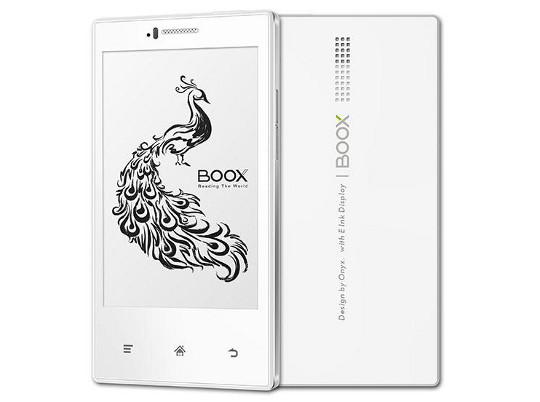 Onyx International is one of the bigger E Ink ebook reader companies that's not named Amazon, Kobo, or Sony. They sell their products mostly in Europe and a few other countries worldwide. Unfortunately the United States is no longer one of them, but Onyx has sold their ereaders here in the past.
Charbax from ARMdevices.net just posted a video interview with the CEO of Onyx International.
The video shows Onyx's first E Ink Android phone, the Boox E43. It has a 4.3″ E Ink screen and runs Android 2.3. Onyx says that it is good to go and they are ready to start taking orders from distributors worldwide so that it can be in customers hands in time for Christmas.
It will be interesting to see how well the Onyx Android phone performs. It is among the first phones to come with an E Ink screen. The readability in bright light is undoubtedly going to be better than traditional LCD phones, but I'm still skeptical about the overall usability and battery life. The interface looks slow and unresponsive in the video, and the answer about battery life was once again sidestepped.
Aside from the phone, Onyx has some new Android-powered ebook readers as well. In fact they are planning to transition all their ereaders to Android.
The most interesting new ebook reader described in the video is the Onyx Boox M96. It has a 9.7″ E Ink screen like the M92 and Icarus Excel that I earlier reviewed, but the M96 runs Android 4.0 and is powered by a Freescale i.MX6 Solo Lite single-core ARM Cortex-A9 processor. It also appears to have a finger-friendly touchscreen instead of a Wacom touchscreen.
Onyx is ready to start mass-producing the M96 so it will likely become available in the next couple of months. It's still not listed on the Onyx website, however.
One thing to note about Onyx's Android ereaders is that they are "open", meaning you can install Android apps to access various ebookstores. They also support ePub and Adobe DRM.
Onyx's E Ink Android Phone and Android eReaders