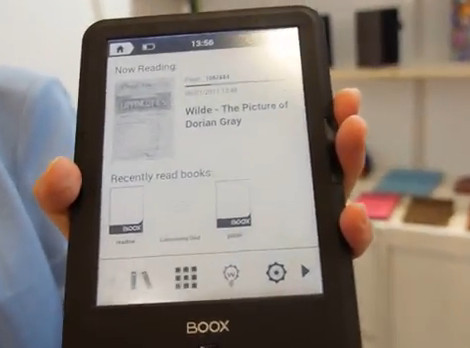 Charbax from ARMdevices.net is at Computex 2013 this week and once again posted an interesting video that shows off some of Onyx International's new Android-powered E Ink ebook readers as well as their 4.3″ E Ink Android smartphone.
Unfortunately Onyx has virtually no presence in the United States so unless you follow the field of ereaders closely you've probably never heard of them, but they've been working on ebook readers since 2009 and have some really impressive software.
Onyx has been working to transition their software from Linux to Android. Android, of course, offers a lot of advantages for users with all of the apps that can be installed. And unlike Sony and Barnes and Noble who also have Android-powered ebook readers, Onyx is going to leave the operating system open so that users can install Android apps if they choose, which could come in handy for apps like Gmail, RSS readers, alternate reading apps, web browsers, etc.
I noticed in the video that Onyx has developed a fast refresh mode to make Android apps run faster, kind of like developers did with the Nook Touch with partial refresh mode (there's a trick to enable fast refresh on the Sony Readers too). They demo Angry Birds with and without fast refresh and the difference is significant. Of course Angry Birds on E Ink is old news, but it serves as a good demonstration of speed.
The video also shows Onyx's E Ink Android phone, which is expected to be released in September of this year. It has changed some since the last time we saw it. For one it now has a frontlight. It was also revealed to have a 800 x 480 resolution E Ink screen.
Personally I'm somewhat skeptical about the phone. The capacitive touchscreen is still under development and clearly does not work well in its current condition in the video. Also the screen is very reflective. But the key to the phone's success will be battery life, and I'm not sure it's going to be all that great when you consider how much differently phones are used than ebook readers. Granted the display will be easier to read outside in bright light, but it's going to take a lot to draw people away from their colorful and bright LCD and AMOLED smartphone screens.
Another device to make an appearance in the video is an early prototype of an ebook reader that uses an 8″ color E Ink screen. Pocketbook recently announce they will be releasing an 8″ color E Ink ereader, and Onyx looks to do the same sometime next year.
Last but not least, Onyx is looking to refresh their large and popular 9.7″ E Ink ereader as well, the Onyx M92. Details on it are still sketchy but it is expected to run Android 4.3. Maybe Onyx will decide to go even larger and use one of E Ink's new 13.3″ Mobius displays. That would be interesting.
Onyx's Android E Ink eReaders and Smartphone