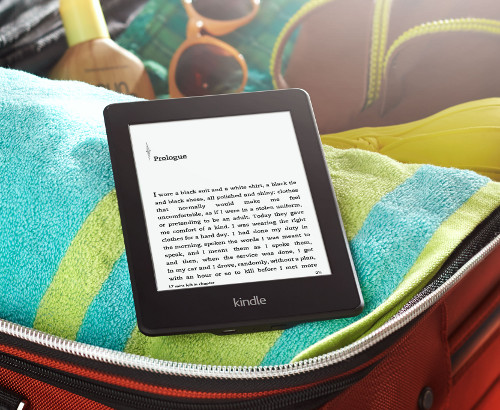 Amazon has started rolling out a new software update for the original Kindle Paperwhite. The new firmware version is 5.3.9.
When I first saw it I thought maybe Amazon was adding the features from the new Kindle Paperwhite, but alas it's a minor update with just a couple of changes.
I still think it's likely that Amazon will add the new features to the old Paperwhites eventually, but it might be a few months. After all, the Paperwhite 2 doesn't even have all the advertised software features yet; Goodreads integration and Kindle FreeTime are still being labeled as coming soon.
In the meantime this 5.3.9 update will have to do. It brings a couple of new features, nothing spectacular, but some people will surely like what they see here.
The first change is to the reading progress indicator that appears on the bottom left of the page when reading. It can display the time left in a chapter, the time in a book, both based on estimated reading speed, and it can also include locations and sometimes page numbers. Now they've added the option to display nothing. If you keep tapping the reading progress indicator to cycle through the options one of them will make it go away entirely, so if you find it distracting you don't have to see it anymore.
The second change with the new firmware is optimized PDF performance. Amazon has increased the speed for loading PDF files, and have improved the stability for complex PDFs.
The last software change improves homonym lookup for Chinese and Japanese. You can now view a list of available definitions for variations of a word from within the dictionary definition window.
That's it for this software update. There's not even any mention of the usual general improvements and bug fixes.
Like always, the new software will automatically download and install on your Kindle Paperwhite over WiFi during the next couple of weeks. Or if want to install the new software manually you can do it now by visiting the the page below: