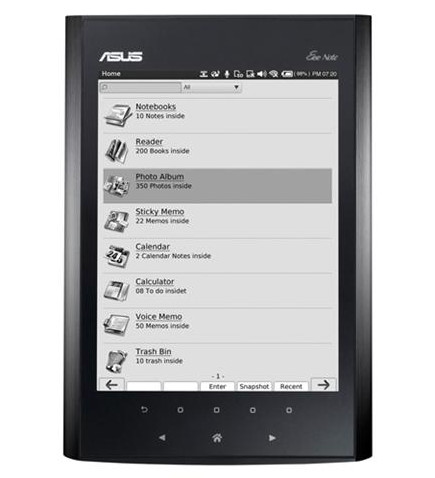 Here's a blast from the past. I just happened to come across the listing for the 8-inch ASUS Eee Note EA800 over on Newegg this morning for $179.
For those of you without a ridiculously good memory for niche gadgets, the ASUS Eee Note EA800 was first released back in November 2010 in Taiwan, and then parts of Europe in 2011. It was supposed to make its way to the US at some point but as far as I know that never happened.
Now, just 3 years later, the ASUS EA800 can finally be purchased in the United States! Actually it's probably been available on eBay for a long time, but Newegg is the first retailer to carry it. Newegg calls it a "First from Asia" product, so it still ships from overseas, but at least it's available, and for a pretty decent price too (except you can get it for $169 on eBay with free shipping).
That may sound a little expensive for a device that is going on 4 years old, but given the specs and hardware it's really not bad. In fact I'm tempted to get one myself.
The ASUS Eee Note EA800 is a very unique product. It's an ebook reader and a digital notepad in one. It doesn't have an E Ink screen, but it does have an 8-inch monochrome, non-backlit display with a respectable 768 x 1024 resolution and support for 64 levels of grey. It has a highly-sensitive Wacom touchscreen and includes a stylus for taking notes and drawing on the screen, which responds to 256 levels of pressure sensitivity.
The device is meant to be an all-in-one note-taking solution so it even includes a rear-mounted 2 megapixel camera, a voice recorder, 3.5mm headphone jack, and mono speaker.
The Eee Note EA800 comes with 4GB of internal storage space and it also has a microSD card slot for cards up to 16GB. It has a micro USB port, Wi-Fi, and physical page and menu buttons. The battery is rated at 13.5 hours with wireless off and 10 hours with wireless on, so that's one of its weaker points.
The dimensions of the EA800 are 139 x 222.4 x 11 mm, and it weighs 520 grams (about 18.3 ounces). For formats it supports PDF, ePub, MP3, JPEG, BMP, GIF, and PNG directly, and txt, doc, docx, xls, xlsx, ppt, and pptx with the PC importing tool (saves as PDF/ePub).
Personally, I'm trying to decide if it would be worth getting one of these or not, so I've been looking over some reviews. Here's a pretty informative review I found from jmirko2010 on the listing at eBay:
I bought the EEE Note to replace my paper notebook for taking notes in meetings, and to read e-books/pdf documents while commuting. I have used it for a few weeks now and it has worked great for those purposes.

Likes:
– Easy to import your old paper notes (in pdf format)
– Excellent pen response and accuracy when writing on the screen – this is where it beats color tablets
– Easy-to use, logical user interface
– Great battery life (usually 4-5 workdays between charges)
– Excellent search functions (very fast, search title and keywords, a specific file type or all files, does not lose search results after opening one of the files, you can search for keywords with a single tap)
– Zoom and tilt functions for pdf viewing
– Decent recorded sound quality
– Perfect size for office or commuting
– Stylus stays in a slot on top of the tablet
– Nice protective case and extra stylus included
– Excellent value for money, cheaper than any other device (e-ink / color LCD) with similar capabilities

Dislikes:
– Screen is hard to read in low light conditions, contrast is much lower than e-ink
– On-screen keyboard and virtual buttons could be faster to react (e.g. when typing note titles and keywords)
– Does not recognize handwriting, your notes are stored as pictures

Update 6 Sept 2013:
– Since 2012, export to Evernote no longer works (Asus did not keep up with Evernote security enhancements).
– The synchronization software works reliably now that I have moved from an old PC to a newer one (with Win 7), so it is easy to back up my notes.
Here's the link to another review about ereading features and functions on the ASUS EA800. The video is included below, followed by a second video that gives a look at how drawings work.
Asus Eee Note – Reader Application
Asus Eee Note – Drawing