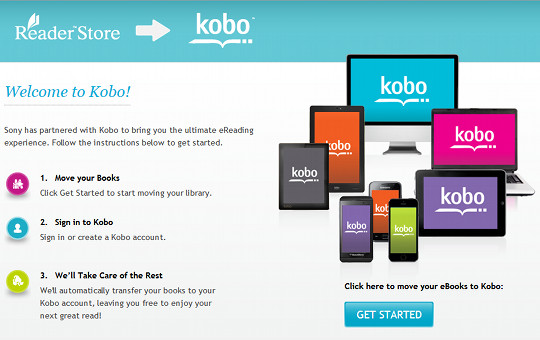 Sony started sending out emails yesterday with links to transition customer accounts over to the Kobo ebook store now that Sony is closing the Reader Store.
I received the email today and the transfer process was incredibly simple and took all of about 30 seconds to complete.
All I had to do was follow the link in the email and then sign in with my Kobo account, and that's it. If you don't have a Kobo account it won't take much longer because all you have to do is give an email address and setup a password to start an account.
The transfer process is very easy, but as suspected not all ebooks from my Sony library transferred to Kobo. This is because a few titles aren't available from Kobo.
If this happens and you don't want to relinquish your lost ebooks, you have until April 30, 2014 to login to your Sony Reader Store account and download the titles before they disappear for good. Here's the how to guide on how to download previously purchased ebooks.
The five ebooks that didn't transfer for me were ones I didn't care about anyway.
Reader Store credits transfer over to Kobo as well. I had a $1.46 credit that I didn't even know about :).
It's unfortunate that Sony decided to close their ebook store in the United States and Canada, but at least they didn't leave customers entirely without an option for maintaining their individual ebook libraries to continue enjoying ebooks. And if you have a PRS-T1, PRS-T2 or PRS-T3 Sony ebook reader, there will be a software update to replace the onboard Sony ebook store to access Kobo's ebook store instead.