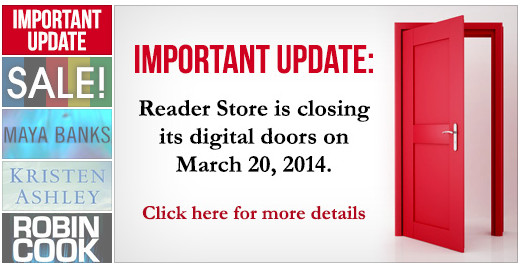 Sony is getting out of ebooks. Sony has started sending out emails to customers today informing them that they are closing the Sony Reader Store in the United States and Canada.
It's shocking that Sony would do this, but not really surprising after they decided not to release the PRS-T3 ebook reader in the U.S. last fall, despite releasing it in Europe and Canada. Sony has been pulling away from ebooks and ebook readers for some time. Now it's getting official.
At this time it's unclear what Sony plans to do with the few international ebookstores they offer, but as March 20th, 2014 Sony will close the Reader Store in the U.S. and Canada for good.
What's more, Sony is sending customer accounts to Kobo, which is the exact same thing that happened when Borders Books closed in the U.S. a few years ago.
Sony says that they will send out emails in late March that will include a link that will allow customers to transfer their ebook libraries to Kobo.
You can still download your purchased ebooks from Sony until then, and that's something every customer should do just in case the transition to Kobo doesn't go smoothly. It would probably be a good idea to remove the DRM at that point too, just in case Kobo decides to move to the new Adobe DRM system in the future, which could potentially make the ebooks incompatible with Sony Readers later down the line.
A move like this brings up lots of questions, of course. Sony has posted a FAQ that answers many of them. They even admit that a few of your purchased ebooks may not make it through the transition and advise downloading them before April 30th. All subscription services will be ending, credits and gift card balances will expire if not used up or transferred to Kobo, pre-ordered books will be canceled beyond the deadline, and customers can even elect to opt out of the transfer to Kobo if they choose.
Another interesting detail in the FAQ notes that the PRS-T1, T2, and T3 will be updated, as well as the PC and Mac program, to download books from Kobo directly. The PRS-900 and 950 will not be updated, however, so their wireless capabilities just became obsolete.
Reader Store Closure – Frequently Asked Questions