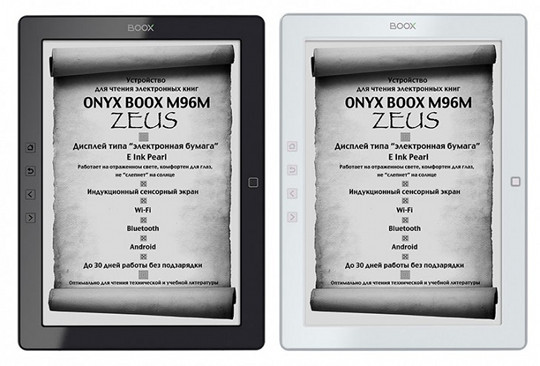 There's a new large-screen Android-powered ebook reader available in Russia that I sure wish I could get my hands on. The device is called the Onyx Boox M96M Zeus.
Ereading must be popular in Russia because they get all the coolest ebook readers. Here is the States we're stuck with bland Kindles and Nooks and Kobos that all try to look the same and have similar hardware.
The Onyx Zeus comes with a 9.7″ E Ink Pearl display with a resolution of 825 x 1200. The device has Wi-Fi and Bluetooth. It has a 1 GHz Freescale i.MX6 Solo Lite processor and 512 MB of RAM. There's 4GB of flash memory and it comes equipped with a memory card slot. It has a touchscreen as well as physical buttons.
The most interesting thing about the Onyx Zeus is it runs Android 4.0.4 and even comes with Google Play to download apps.
It comes with four reading apps pre-installed: FBReader, ONYX Reader, CoolReader and AlReader. There are also English-Russian and Russian-English dictionaries from QuickDic, and additional dictionaries can be installed as well.
Too bad Amazon's utter domination in the U.S. ebook market has kept manufactures like Onyx from offering their ereaders here. There used to be a few authorized resellers scattered across the U.S., but not anymore…
The Onyx Boox Zeus sells for 14,990 rubles in Russia, which is equivalent to about $420—seems pretty steep, especially considering it doesn't have a frontlight or use newer screen tech from E Ink. But if you've got the cash and live in Russia, it looks like it has the potential to be a pretty versatile ereader.
via: The eBook