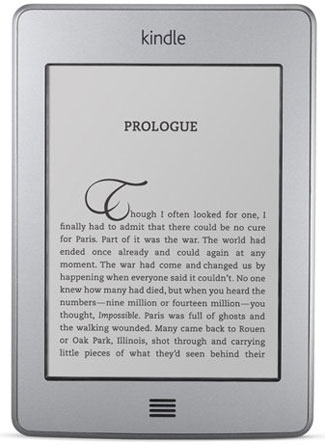 There's an ongoing tech deal at Woot today for Amazon's short-lived Kindle Touch ebook reader.
Woot's price is $54.99, plus $5 for shipping. And it's a certified refurbished Kindle Touch, with Wi-Fi and special offers (advertisements). Refurbs come with the same 1 year Kindle warranty as new models.
So for $60 you get 6″ Kindle Touch with an infrared touchscreen, a 800 x 600 resolution E Ink Pearl display, and most of the same reading features as the newer Kindle Paperwhite.
The main advantage the Kindle Touch has over its successor is the added support for audio files. The Kindle Touch has two speakers with pretty good sound and a headphone jack. It can play MP3's and audiobooks. It also has text-to-speech with different speed settings and voices for reading ebooks aloud.
Because it supports audio files, the Kindle Touch also has more storage space. In fact it has more than twice as much usable storage space as the Kindle Paperwhite at 3 GB instead of 1.25 GB.
It doesn't have a frontlight or the sharp fonts like the Paperwhite, but is otherwise very similar.
Amazon still sells refurbished Kindle Touches as well. The regular price is $79, so this Woot sale saves about $20.