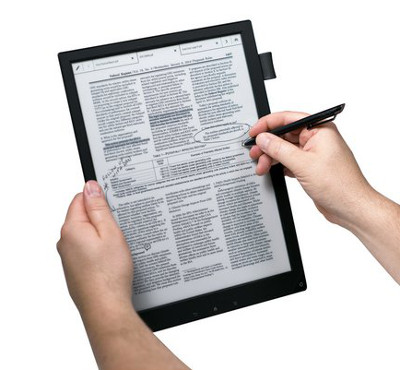 Last month Sony announced that their 13.3″ E Ink digital paper PDF reader would be coming to the United States through a company called Worldox. Up until then it had only been available in Japan.
The device, dubbed the Sony DPTS1 Digital Paper, is being marketed to business professionals as a paper replacement system, not to consumers as an reader. That's probably because of it's super high price of $1100.
One of the reasons the price is so high is because it's the only device currently using a 13.3″ Mobius display from E Ink. Instead of using glass like most epaper devices, the Sony DPTS1 uses plastic for the screen backing, which makes it a lot lighter and more durable.
Even though the screen measures 13.3″ diagonally, the overall weight of the Reader is only 12.6 ounces. By contrast, the 9.7″ iPad Air tablet weighs about 16 ounces.
It was announced last week that the Sony Digital Paper Reader would be headed to Hollywood as part of a pilot program with Ease Entertainment to use the devices to "streamline the new hire and crew on-boarding process".
And now some review units are apparently being sent out as the YouTube video review below indicates. The video gives a first look at the interface and some of the features. Take a look… The device sure does look like it could be a really nice PDF reader.
First Look: Sony Digital Paper