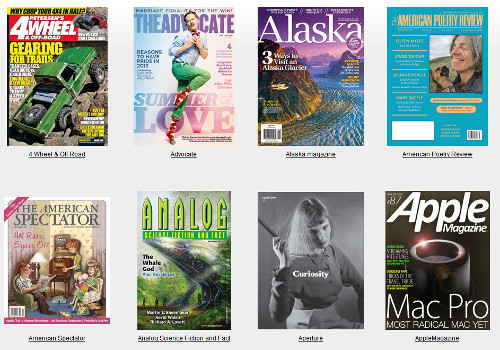 Amazon is taking large strides toward acquiring all angles of the ereading market. Amazon has a long history of buying companies involved in the digital book industry, and I think it's just a matter of time before they purchase Zinio, a leading digital magazine retailer.
Amazon already has their own Kindle Newsstand that offers magazines and newspapers, but it's a convoluted setup where most of the titles only work on certain devices, such as E Ink Kindle only or Kindle Fire tablets only. Some are available for Kindle apps, some aren't.
Zinio on the other hand is a more polished platform for digital magazine reading. They have apps for iOS, Android, Windows 8, and there's a desktop reader for Mac and PC. The iPad app is especially nice and everything is well-presented and the interface is easy to use (I know this because of all the free magazines I got from Zinio through the public library).
Earlier this month Amazon bought Comixology, the top place to get digital comics. Amazon also sells some of the same comics in their Kindle store, buy by acquiring Comixology they've opened up more opportunities in non-Kindle platforms. In fact they've already updated the iOS app to remove in-app purchasing so that Apple no longer gets a 30% cut of sales, and changed how purchases are being from Android devices.
Amazon also recently purchased Goodreads, a social network for books, where people review and discuss books, and use Goodreads' recommendation engine to find new titles and authors. Amazon has already integrated features from Goodreads into their Kindles. The same sort of thing happened back in 2008 when Amazon bought Shelfari, a similar service.
Amazon also owns Audible, the leading outlet for audiobooks. Audible first started in 1997; then Amazon purchased the company in 2008. Now Audible is integrated tightly into Amazon's website and Kindle platform.
Not only is the Kindle the number one platform for ebooks, Amazon is clearly interested in taking over all aspects of the digital reading market. How long before they try to reach out and strengthen their grasp on digital magazines?