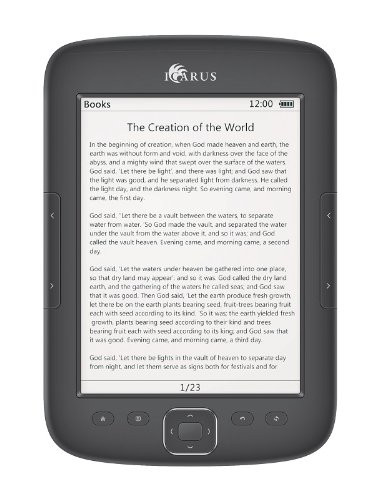 The Wexler Flex One isn't the only ebook reader from outside the US market that is available for purchase at Amazon.
Yesterday I came across a listing for the Icarus Illumina HD on Amazon for $139.95 plus $4.91 for shipping, a pretty good price considering the specs.
Awhile ago I posted about two other Icarus ebook readers being sold on Amazon, the 6″ Icarus Essence and the 8″ Icarus 8. Icarus is based in the Netherlands, and sell mostly in Europe, but they also sell through a third-party merchant on Amazon called Odyssey Shop.
Both the Icarus Essence and Icarus 8 are basic ebook readers, but the Illumina HD is a step up. It has an HD E Ink screen as well as a frontlight. It also has a microSD card slot and a capacitive touch screen.
Other features include eight brightness settings for the frontlight, physical buttons in addition to touchscreen navigation, it supports any True Type fonts, margins and linespacing are adjustable, there are bookmarks and landscape mode, it has an audio player, PDF reflow, plus the device supports StarDict dictionaries.
Here's the full list of specs for the Illumina HD:
6-inch E-Ink Pearl display
1024 x 758 screen resolution
Capacitive touchscreen
4Gb internal memory
Micro SD card slot for cards up to 32GB
WiFi 802.11 B/G/N
Supported ebook formats: PDF, FB2, EPUB, RTF, MOBI, TXT, HTM
Supported audio formats: MP3, WMA, WAV, FLAC, AAC, OGG
Battery: 1500mAh, up to one thousand page refreshes
Dimensions and weight: 125 x 180 x 10mm, 229 grams
Illumina HD Video Demo