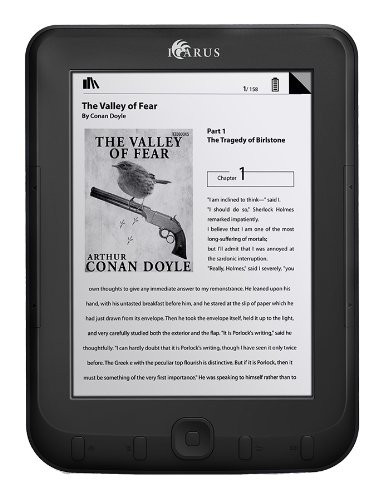 Back in 2012 I reviewed an ebook reader called the Icarus Excel, a 9.7″ E Ink ereader with a Wacom touchscreen and Pearl display. It is sold from a company called ICARUS based in the Netherlands, but they also sell through a third-party merchant on Amazon.com called Odyssey Shop. In fact the Icarus Excel is still available from there for $299, plus $5.59 for shipping.
I hadn't noticed until recently that Icarus also sells a couple of their other ebook readers on Amazon. There's an 8-inch model and a 6-model, both of which are basic models without touchscreens or frontlights.
The 8-inch Icarus ereader is currently out-of-stock. It was available a couple of days ago, but I can't remember the price. I think it was in the $180 range . . . I'm not sure. This model has a 1024 x 768 resolution screen, Wi-Fi, 4GB of internal memory, a microSD card slot, and 2800 mAh battery capable of up to 8000 page refreshes.
The 6-inch Icarus Essence is more affordable at $89.95, plus $4.91 for shipping. There are also bundle packages that come with covers for $94.95-$110.95. The device has a 800 x 600 resolution screen, 4GB of internal memory, a microSD card slot, and 1500 mAh battery capable of up to 6000 page refreshes. This model does not have Wi-Fi.
Lacking touchscreens, both devices have a number of physical buttons. They support Adobe DRM and ePub, PDF, and TXT documents. Both can switch between portrait and landscape mode for reading, and both have the usual book-reading features like search, TOC, and bookmarks.
The larger model has some advantages with Wi-Fi and the ability to add custom fonts. There are more page layout options too.
Unfortunately neither have the much more advanced software of the Icarus Excel, but one interesting detail to note is it appears they might use the alternate e-paper screens that come from E Ink's competitors (on the Icarus website there's no mention of E Ink for those two models, but they clearly label the Excel as using E Ink Pearl).
I reviewed the Pyrus Mini last year and it had one of these different epaper type of screens and it was quite good and hard to tell the difference.
These ereaders have been around for awhile and don't have any flashy new features, but at least they prove that there's still a few alternative ebook readers to be had in the US, not just Kindle, Kobo, and Nook.