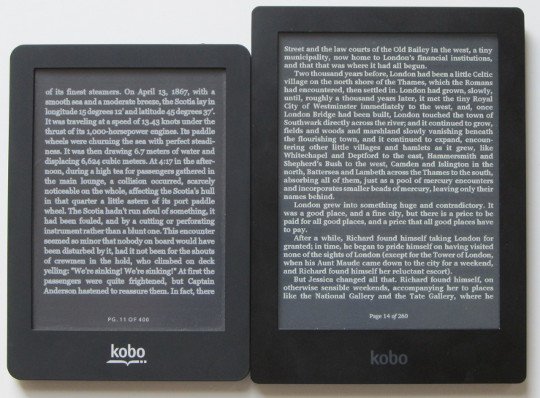 A long time ago I posted about an interesting hack I came across at MobileRead that can enable night mode on most Kobo ebook readers—the Kobo Glo, Kobo Mini, Kobo Touch, and Kobo Aura HD.
The hack makes it so the device displays white text on a black background instead of the usual black text on a white background.
On tablets this is called night mode. It is favored by some for reading at night because less bright light is emitted toward your face without the white background.
On an E Ink ebook reader it doesn't serve the same purpose, but some people still prefer to read with white text and a black background.
Here's the link to the directions if you want to install this night mode hack on your Kobo ereader. Basically all you have to do is download a file and place it in the .kobo folder and it will install itself—it's super easy.
I thought I had posted a YouTube video showing night mode in action on Kobo's ebook readers, but I guess not. So while I was putting together the video for the Kobo multi-touch hack, I decided to put together a quick video showing night mode on the Aura HD as well.
E Ink Kobo eReader Night Mode Trick