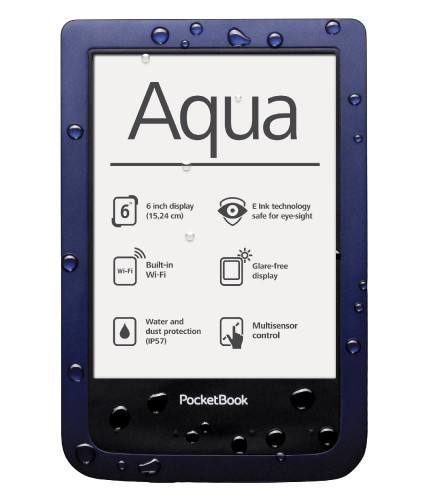 Last week PocketBook announced their first waterproof and dustproof ebook reader, the PocketBook Aqua. It's going to be released in Russia in a few weeks for the equivalent of about $200.
The first video review for the Aqua has already turned up on YouTube. The review is in Ukrainian but it gives a closer look at the PocketBook Aqua in action.
The device gets buried in a pile of sand and submerged underwater, and continues to work. Some of the reading features are shown as well toward the end of the video.
Like the PocketBook Ultra, the Aqua has a 6-inch E Ink screen. But it doesn't use the latest Carta screens or even a high resolution screen. For some reason the PocketBook Aqua is equipped with the older 800 x 600 resolution E Ink Pearl screen. And it also lacks a frontlight.
Other features for the PocketBook Aqua include a capacitive touchscreen, Wi-Fi, micro USB port, 1 GHz processor with 256 MB of RAM, and 4GB of internal storage space. It's one of the only PocketBooks that doesn't have a microSD card slot, which isn't surprising given the waterproof and dustproof properties.
PocketBook Aqua Video Review