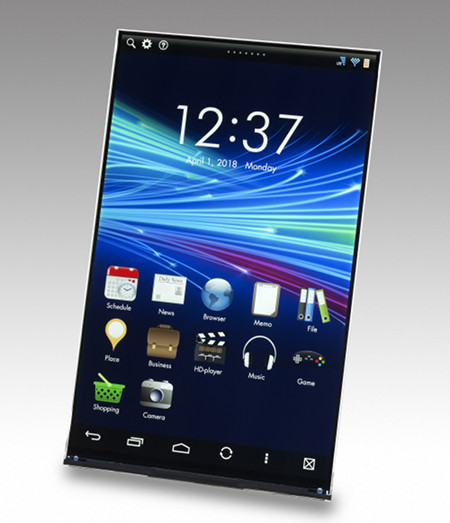 Japan Display has announced that they have developed new high resolution 7-inch WhiteMagic tablet displays that are designed to provide better readability outdoors in bright light and use less power than traditional LCD-style displays.
WhiteMagic displays first debuted in 2012 on Sony's Xperia P smartphone, which uses a 4-inch screen. Japan Display also started mass-producing 5-inch WhiteMagic displays last October. Now they are scaling things up to 7-inches to try and crack the tablet market, and have started shipping out samples according to an announcement made today.
The thing that makes WhiteMagic displays unique is the use of an extra sub-pixel. Normally LCD screens have red, green, and blue sub-pixels. WhiteMagic displays add a fourth white sub-pixel to the mix. This helps the screen appear brighter while at the same time using less power.
WhiteMagic has two different display modes, one for indoors and one for outdoors. Bright mode for outdoors is roughly twice as bright as the power saver indoor mode, and uses about the same amount of energy as traditional displays. Japan Display claims that overall power consumption is up to 40% lower than existing products.
There appears to be two variations of the new 7-inch WhiteMagic screens. Last week Japan Display's first announcement spoke of a 7-inch screen with a resolution of 2560 x 1600. That's an impressive 431 ppi. Today's press release describes a 7-inch screen with a resolution of 1920 x 1200 (323 ppi). Both have 160 degree viewing angles.
The new screens are being demoed this week at SID Display Week in San Diego. Hopefully some YouTube videos will come online soon showing them in action. I tried to find a video comparing a WhiteMagic screen outside in bright light with a regular LCD screen, but couldn't turn anything up. The only video that I could find showing a WhiteMagic screen outside is the Xperia promo below from a couple years ago. The screen does look good in the light but it's hard to tell without a direct comparison with a regular screen.
What is White Magic?