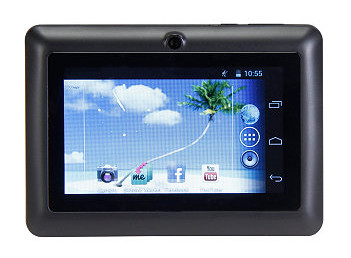 Just when I thought I had discovered a really cheap tablet, the new $49 Android 4.4 KitKat tablet at Best Buy, I happen to stumble across a deal at Newegg for an $8 tablet with free shipping.
Granted the device is refurbished and it only has a 4.3-inch screen, and it's more than likely a total piece of junk, but it's 8 freaking dollars after a $15 mail-in rebate. Crazy.
If you are willing to spend a little bit more, Newegg has a much better tablet for $35 after rebate, the Hisense Sero 7 Lite. It runs Android 4.1 and has a 7-inch 1024 x 600 screen, dual-core processor, microSD card slot, and mini HDMI port. It's refurbished.
All Kindle models are on sale right now too. Amazon has discounted the current line of Kindle Fire tablets once again, and Best Buy has the E Ink Kindle marked down by $20.
The Nook GlowLight is on sale as well, and the older, more hackable Nook Touch is still on clearance for $35 new at OfficeMax.
Here are the links:
Proscan 4.3″ Android 4.0 Tablet – $7.99 after $15 rebate
Hisense Sero 7 LT – $34.99 after $15 rebate
Nook GlowLight – $99 ($20 off)
Nook Simple Touch – $35 ($15 off)
Kindle Paperwhite – $99 ($20 off)
Kindle Paperwhite 3G – $169 ($20 off)
Basic Kindle – $49 ($20 off)
Kindle Fire HDX 8.9″ – $339 ($40 off)
Kindle Fire HDX 7″ – $199 ($30 off)
Kindle Fire HD – $119 ($20 off; $40 off 16GB model)
Kindle Fire Refurb – $79 ($20 off)