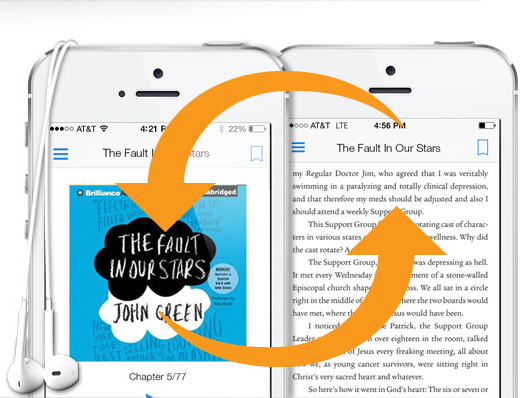 Amazon has released major updates to their Kindle reading apps today.
Amazon issued a press release announcing the biggest change: Audible integration. Kindle reading apps now support audiobooks, aka Whispersync for Voice.
This feature was previously only available on the latest line of Kindle Fire tablets. Now all the Kindle reading apps have the ability to switch back and forth from playing the audiobook to reading the Kindle ebook.
Whispersync for Voice keeps everything synced up between the audiobook and Kindle ebook so that you are always in the same place. I've added a video demo to the bottom of this post showing how everything works.
Amazon often discounts the audiobook after purchasing the Kindle ebook. They currently offer over 45,000 compatible titles (list). Some popular classics are free, with the professionally narrated audiobook costing 99 cents.
If you want to try Whispersync for Voice for free, Amazon is giving away a new pair of ebooks and audiobooks each month. This month's free title is Black Beauty. You have to get the ebook first, then you'll get the option to get the audiobook for free.
In addition to adding audiobook integration, Amazon added several new features to both their iPad/iPhone and Android apps.
Here's the changelog for each:
Kindle for Android 4.5.0.123
Switch between reading and listening when you add audio to a Kindle book
Jump directly to previous locations from the progress bar
Copy a word or phrase, paste into another program
Multi-color highlights
Improved notifications
Improved cross-device sync
Kindle for iPad/iPhone
Access to more than 45,000 Kindle/Audible title pairs, including best sellers
Find audiobooks compatible with items in your Kindle library – audiobooks are delivered by Audible, an Amazon company
Whispersync for Voice automatically synchronizes reading progress between the Audible and Kindle versions of a book
Read and listen to a Kindle book at the same time; pages turn automatically
Narration speeds up to 2x and a sleep timer
Download an entire collection – gives customers the ability to download an entire collection with the tap of a button, making it easier for readers to download in bulk and load their favorite books on a new iOS device
Students can now find terms that are in X-Ray for Textbooks by using search – occurrences in X-Ray are shown right above occurrences in the book
Finding where an X-Ray term occurs on a textbook page is now easier – tap a page thumbnail in the X-Ray feature and you will see the term highlighted in the page of the book
Performance and stability improvements
Update: Here's a video that I put together showing how Whispersync for Voice works on the iPad. The Android app works the same exact way. The only difference with the Android version is it has the benefit of highlighting the text as the narrator reads aloud, like the Kindle Fire HDX tablets. Here's the link to a video showing the Android version if you'd rather see that instead.
iPad Whispersync for Voice Demo