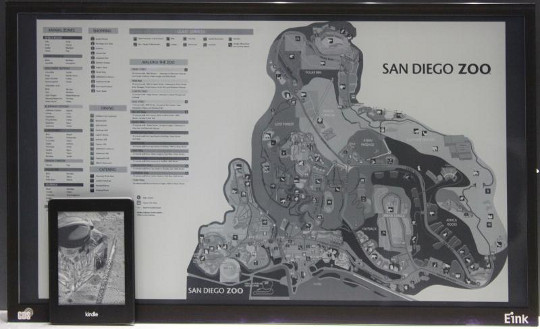 This past week E Ink unveiled their largest single epaper display module yet. The new screens measure 32-inches diagonally, and are almost 25 times the size of a standard ebook reader display.
The overall dimensions are 27.75-inches by 15.75-inches. Next to a Kindle the new screens look absolutely gigantic.
The new screens are available in both monochrome and color. The regular black and white screen has a display resolution of 2560 x 1440. That equates to 94 dpi.
That's rather low compared to the resolution of smaller screens, but these 32-inch displays aren't designed for the same purpose. While it would be nice to have a 32-inch secondary E Ink monitor, these are targeted primarily at the digital signage market.
A large 32-inch epaper display does make for a good sign. It's readable in direct sunlight and the image can be changed and updated whenever needed with a minimum of power. But there is one problem.
Given how expensive E Ink screens cost, especially larger screens, this 32-inch monster probably has an astronomical price tag that would make most people scream. Considering the Sony DPT-S1 sells for $1100 with a 13.3-inch Mobius screen, could you imagine how much a 32-inch screen would cost?
I hadn't really considered that aspect before today; that's probably the number one reason why E Ink signs aren't very popular and have yet to take off.
The new 32-inch screens were developed in cooperation with Global Display Solutions, a leader in the deployment of green display technologies for outdoor and indoor digital signage. GDS is a sales and marketing partner and will jointly market the product with E Ink.
"Using E Ink technology, we were able to design an outdoor display that is only a few millimeters in thickness with very low power consumption and without fan noise. We believe this product can replace existing LCD and LED displays for many applications in the digital signage market as well as open up new markets that are looking for green display technology," said Andrea Ongaro CTO for GDS. "The E Ink 32" electronic paper display has a large enough active area to address a large part of these markets as a single unit. It can also be seamlessly tiled together to create a much larger display system."
Here are some pictures that show what the new screens look like.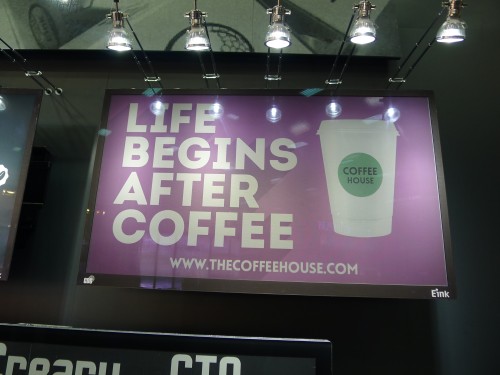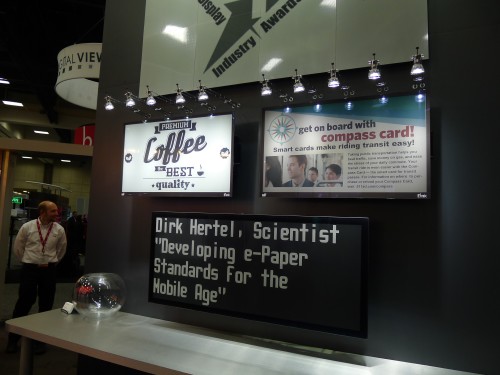 Images via The Digital Reader
Source: E Ink