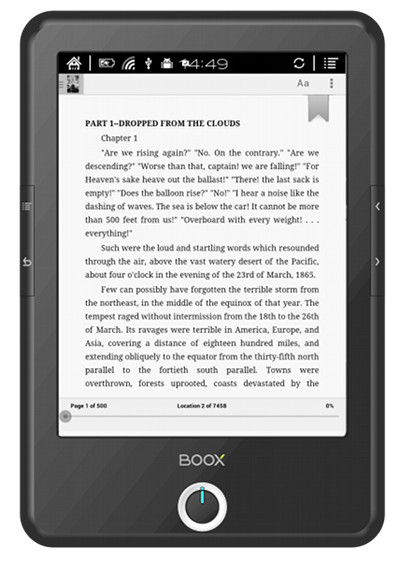 Earlier in the month, the Onyx Boox T68 turned up in a short video review from an Italian ereader website. Now we've got a more detailed look at the T68 in action from a German ebook reader blog.
The Onyx Boox T68 is one of the most intriguing E Ink ereaders that is going to be released this year. It has a high resolution 1440 x 1080 6.8-inch E Ink screen, the very same as the Kobo Aura HD, but unlike the Aura HD the T68 runs Android 4.0 and can install apps from Google Play.
Other features for the T68 include a frontlight, Bluetooth, Wi-Fi, a microSD card slot, capacitive touchscreen, headphone jack, 1GHz processor, 512MB of RAM, and 4GB of internal storage space.
The first thing that jumps out in the video is how good the screen looks. The screen is nice and clear, and the frontlighting appears to be uniform across the screen, without any yellow tinges sometimes prone to frontlights.
Unlike the Kobo Aura HD, the Onyx Boox T68 has physical buttons for navigation in addition to the touchscreen. In fact the buttons appear vital for operation because there aren't the typical onscreen buttons that Android uses for home, menu, and back. The first thing I would do is install Button Savior to get onscreen buttons for navigating.
The good thing about having Android as the operating system is the fact that you can load several ereading applications onto the device. It comes with four preinstalled: AlReader, FBReader, OnyxReader, and Cool Reader. I noticed that they have the Kindle app installed as well.
This sure looks like a fun ereader to test. Too bad I'll never be able to get my hands on one…
Onyx Boox T68 Video Review (German)
via: Allesebook.de